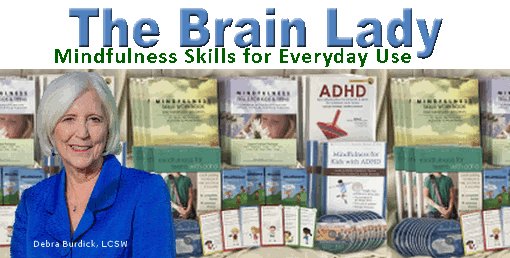 ---
Transforming Stress
3- part teletraining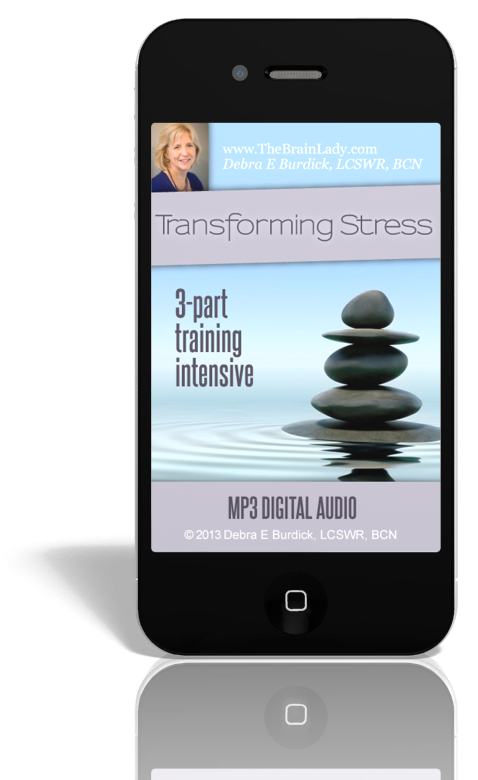 If you are like many people today, you are constantly exposed to stressors, both good and bad. This training will help you understand stress, recognize the signs of stress overload, and teach you effective skills for reducing and managing it.
It will give you the tools and techniques you need to transform stress into the success you desire in your life.
Have you ever felt stressed out, checked out, and tuned out?
Do you ever have trouble concentrating and getting things done?
Are you more forgetful than usual?
| | |
| --- | --- |
| → | Do you put a lot of pressure on yourself? |
| → | Is your mood negatively affected by what goes on during the day? |
| → | Do you feel like you are always running behind? |
| → | Are your thoughts racing, negative, or anxious? |
| → | Do you find yourself snapping at your loved ones? |
| → | Do you feel like there simply isn't enough time to get everything done? |
| → | Are there nights when your mind is too busy to sleep? |
| → | Is your relationship, work, or finances stressing you out? |
| → | When stressed out do you experience headaches, a stiff neck and shoulder or stomach pain? |
| → | Do you worry about what happened during the day or what is going to happen tomorrow? |
| → | Do you ever feel overwhelmed? |
| → | Do you ever feel stuck in your life and can't figure out how to change it? |
| → | Are you experiencing stress related illness |
| → | Does stress get in your way of success? |
If you answered "yes" to any of these then stress may be interfering with your success. The good news is you are not alone and this teletraining can help you transform stress.

In this 3-part teleseries you will learn:
→
How to recognize and understand stress

→

When stress is helpful or harmful

→

What stresses you MOST

→

Warning Signs of stress overload
→
How stress shows up in your body

→

Internal vs External sources of stress

→

How to change the stressor

→

How to change your response (internal) to stress

→

Techniques, skills, and activities for de-stressing

Relationship stress
Financial stress
Work stress
Health stress
If you answered YES to any of these questions, then this teletraining is for you!

Do you react more strongly to stress than others do?
Do you ever wish you could understand and reduce stress?
Are you missing the signs of stress and not recognizing it soon enough?
Do you need help preventing or reducing stress?
Do you wish you knew better ways to manage the stress you experience?
Does stress prevent you from succeeding?
Do you wonder if there is a better way?
If you answered YES to any of these, then this teletraining will help you de-stress your life right away.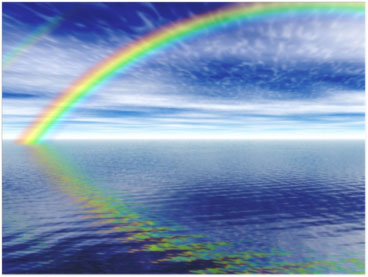 I am often amazed at how stressful people's lives can be. But I am equally amazed at how quickly people can make changes either in their stressors or in their response to their stressors that help them feel better and perform better.
It turns out it's not the stressor that's harmful, but rather your response to the stress.
What if you could:
| | |
| --- | --- |
| | Get a handle on exactly what your current stressors are |
| | Understand how stress gets in the way of success |
| | Recognize the signs of stress more quickly |
| | Understand how you respond to stress |
| | Know when and how to change the stressors |
| | Identify internal versus external sources of stress |
| | Learn skills to transform stress in relationships and at work or in your business |
| | Avoid stress related illness and health stress |
| | Decrease financial stress |
| | Get un-stuck |
| | Feel calm, relaxed, happy, content |
| | Practice simple techniques every day that lower your stress response? |
This Transforming Stress teletraining will show you how.

Here's the outline of the 3-part teletraining:
What is stress?

Definition
Can be negative or positive
External and internal Sources

Fight or flight response = emergency mode
Identify your stressors
Warning Signs of stress overload

Cognitive
Emotional
Physical

Notice how stress show up in your body
Internal vs External stress
Can you change the stressor?

Eliminate the stressor
Avoid the stressor
Change the stressor

How to change your response (internal) to stress

Breathing
Mindfulness of stress response
Mindfulness of thoughts
Mindfulness of emotions
Replacing Automatic Negative Thoughts
Why exercise helps
Talk about feelings

Relationship stress

Heart attack risk determinants in relationships
Women
Men
Expectations from family of origin
Parenting
Communication styles
Fighting fair
Creating a home

Disagreements that never die

Money
Blame
Transforming relationship stress

Share feelings, communicate
Share affection
Support each other
Balance work and family
Get away from it all on a regularly basis

Financial Stress

Expectations
Facing the music

Work stress

Assertiveness

Passive – not feeling in control
Active – feels more in control
Ask for what you want clearly and openly
Negotiate rationally instead of emotionally
How to represent yourself and your needs

Fear of failure in business
Overwhelm
Coping with unreasonable demands

Customer service role
Too many demands all at once
Where is the pressure coming from?
Disorganization
Not enough resources to do everything
Understand what lies behind the demand
Develop solutions that are do-able

Health Stress
Techniques for de-stressing

Relax your mind

Relaxation breathing
Write
Keep a stress journal
Express your feelings
Do something you enjoy
Focus on the present

Present Moment Awareness
Breathing
Core Mindfulness Practice
Mindfulness of tasks

Meditate
Use guided imagery
Automatic negative thoughts (ANTs)

Identify them
Replace them with a thought that feels better

Change the channel
The role of prayer

Relax your body

Exercise
Relaxation breathing
Progressive muscle relaxation
Body Scan
Yoga, Tai chi, Qi gong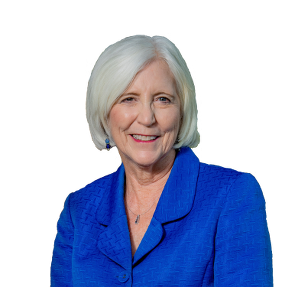 So who am I, and why should you listen to me?
My name is Debra Burdick, LCSW, and I initially became interested in recognizing and managing stress in order to deal with a chronic illness (now thankfully healed). I learned about how stress triggers our stress response. Then I studied and practiced valuable, research based techniques for recognizing and calming the stress response. I found this so helpful in my own life that I started teaching my clients the skills I was using. It has become more and more clear to me that stress plays a major role in emotional and physical health and that addressing stress this way can have a significantly positive impact on lives.
Transforming Stress 3-Part Teletraining
Here's what you Get:
3 MP3 Recordings - Total of 3 Hours Of Training
The slides that accompany the presentations
Instructor: Debra Burdick, LCSWR, BCN
Price: Incredibly low price of $97 for this information packed training


Here's what others say about my workshops.
"This speaker is a very knowledgeable expert."
~ Donna M., Counselor
"Great info, highly useful. Very knowledgeable, quite impressive."
~ Michael K. Counselor
"Intelligent, practical & caring style."
~ Richard L., Psychologist R.
"Usually I can't sit still in workshops but this had my undivided attention! She was wonderful. Not boring and very experiential!!"
~ Dee R., Psychologist
"This workshop was one of the best (in 25 years) because there were a lot of experiential exercises and how to use the techniques to integrate in practice (over 50% of the time). Amazing woman. - It was more meaningful that she shared so many personal experiences that related. She practices what she preaches. Very creative."
~ Barbara Hermey, PhD, PSYD, Lansdale, PA.
"I wanted to drop you a note and salute you for the fine workshop on Mindfulness you presented last week in NJ. I thought your seminar provided a solid theoretical grounding and very helpful review of the literature for Mindfulness practices and you also provided a thorough collection of substantive offerings of Mindfulness practice tools. I bring a strong personal interest, mental health and executive coaching practitioner and an academician's standpoint toward my set of learning objectives regarding Mindfulness. Your presentation met the needs arising from each of these areas.
In addition to your workshop content being high quality, I thought your presentation was equally so. I liked how, you seem to reveal parts of yourself and pleasant personality in your delivery that endeared you to your audience and enhanced their attention and interest."
~ Jack Colyar, PhD, NJ.
"The seminar on Mindfulness Toolkit in King of Prussia was one of the best CMI offers. I have keen interest in neurobiology and felt you were able to weave basic information for the audience at hand. Hope you will be back in the area. I'd recommend professional peers to be certain not to miss you."
~ Patricia Pater Green. Philadelphia, PA.
"Since I first explored the concept that ADHD was not a pathology to be medicated, but an expression of our genetic legacy (hunters, as opposed to farmers) present in most of us, I have been waiting for a community of health care providers to come up with viable alternatives to the medical approach. Deb Burdick offers a portfolio of such holistic approaches, from counseling, coaching, medication, nutrition, education, mindfulness and family dynamics to the exciting domain of neurofeedback, in which she is certified, and which I have seen work, including in my own family. As a licensed clinical social worker and the mother of a child with ADHD she offers education and a holistic approach that build wellness and wholeness beyond the current (inadequate) medical model."

~ Thom Hartmann, PhD; psychotherapist, author The Edison Gene, radio/TV host