Meditations for Concentration CD/mp3
Part of the
Holistic Approach to ADHD Series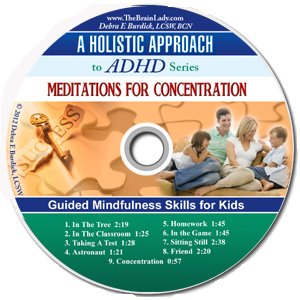 | | |
| --- | --- |
| CD – $20 | |
| Digital MP3 – $9.99 | |
Attention:
Any parent, teacher or therapist who works with kids who can't concentrate. 
Any parent, teacher, or therapist who is looking for simple but effective ways to help kids improve their concentration.
Therapists and teachers who want an effective, practical resource to help their clients or students increase their ability to pay attention in and out of session or the classroom.
The meditations/mindfulness skills on this CD/mp3 are designed to help kids, clients or students who have trouble with:
concentration
hyperactivity
doing homework
taking a test
organization
success at school
relationships
sitting still
get things done on time
self-regulation
self-awareness
having friends
Researchers found that mindfulness practices like those on this CD/mp3 improve:
anxiety
depression
anger
overall wellbeing
joy
hope
contentment
long term mental health
eating disorders
attention and concentration
emotional regulation
self-awareness
compassion and acceptance of self and others
psoriasis, fibromylagia, arthritis, low back pain
ADHD
sleep
substance abuse
Kids with ADHD can benefit from some help in many of these areas.  You already know how challenging it can be to find effective strategies to help with these issues.
Here's what you get with this Mindfulness Toolkit CD/mp3…
This Meditations for Concentration CD/mp3 will guide kids through nine evidence based meditations/mindfulness skills designed to help children practice concentrating and sitting still.  The skills are fun and kids love to do them.  All of them help kids stop the busy chatter of the 'monkey brain', slow down, tune in and be more present.  Use of these skills will allow kids to reap the benefits of mindfulness that are proven by research.
The CD or mp3 contains nine short meditations ranging in length from 1 minute to 2:38 minutes. Each meditation asks the listener to close their eyes and use their imagination. The meditations are titled:
In the Tree
In the Classroom
Taking A Test
Astronaut
Homework
In the Game
Sitting still
Friend
Concentration
Listening to these mindfulness exercises trains mindfulness and concentration. They are aimed at kids from 2-12 but many teens have enjoyed them as well. I use them in session, teachers use them in the classroom and parents use them at home.
I have discovered that kids really pay attention while listening to the CD/mp3. Some who listen several times on different occasions actually start to memorize it. In fact, one young boy who was way too cool to listen, gave himself away when he noticed I stuttered on the CD and he immediately said 'ah ha, you made a mistake'.  He was listening to every word while pretending he wasn't.
Parents regularly tell me how the kids start to remind themselves to concentrate using some of the phrases they hear on the CD/mp3.  And parents can reinforce what the kids learn from it during the day.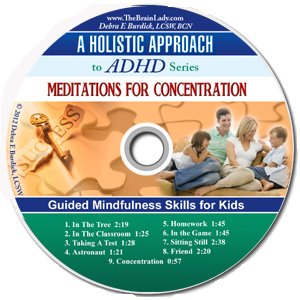 $25.00 Value.  $20.00 for a limited time
| | |
| --- | --- |
| CD – $20 | |
| Digital MP3 – $9.99 | |
Applicable tax, shipping, and handling are added at final checkout.
P.S. Meditations for Concentration CD/mp3 is being used by parents, health care professionals, teachers, and therapists to help kids of all ages thrive. How about you?
P.P.S  My award-winning book ADHD: Non-medication Treatments and Skills for Children and Teens is a great companion to this CD/mp3.