Meditations for Concentration CD/mp3
Part of the
Holistic Approach to ADHD Series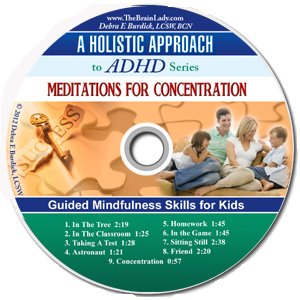 | | |
| --- | --- |
| CD – $20 | |
| Digital MP3 – $9.99 | |
Attention:
Any parent, teacher or therapist who works with kids who can't concentrate. 
Any parent, teacher, or therapist who is looking for simple but effective ways to help kids improve their concentration.
Therapists and teachers who want an effective, practical resource to help their clients or students increase their ability to pay attention in and out of session or the classroom.
What if you could:
Finally have a tool that helps kids calm down and be present;

Use nine practical mindfulness skills that you can easily incorporate into your life and work with kids;

Help kids use guided mindfulness meditations to calm down their 'monkey brain' and learn to be present?
Well, now you can!
Finally, an easy to use approach to mindfulness that gently guides kids through a fun process to become more mindful and improve concentration.
Dear Parent, Therapist, or Teacher,,
Does your child, student, or client have trouble concentrating?   Do you worry that you, your child, or your clients or students are missing out on important things because they just aren't paying attention very well?  Are you afraid that they will miss important social cues or miss out on learning as well as they should?   Are you looking for holistic strategies that will help increase their ability to focus on what's going on around them in the present moment?  Are you interested in helping them learn skills that help them pay attention and learn more easily?
I learned about mindfulness many years before I became a psychotherapist.  But since then I have taught mindfulness skills to hundreds of my clients, young and old.
I was looking for some simple ways to help my young clients with ADHD to practice concentrating.  I wrote nine short vignettes that guide kids to use their imagination to practice concentrating and be more present. The vignettes include some fun settings like flying a space ship as well as practical ones like being in the classroom, doing homework, or having a friend over. I recorded them on a CD and have used them in session with kids between 2 and 14 years old for many years.  The kids love listening to them and their parents notice how what they practice while they listen translates into better control of concentration both socially, in school and while doing homework. I bring this knowledge to you in this Meditations for Concentration CD or mp3.
Do your kids, clients or students have trouble with:
trying to focus for any length of time
exhaustion
concentration
restlessness
depression
anxiety
organization
success at school
relationships
impulsivity?
Do you or your clients or students struggle to:
get things done on time
remember what you are supposed to be doing
interact appropriately with others
pick up social cues?
Mindfulness Skills Work!
There is evidence to suggest that mindfulness meditation actually reduces ADHD symptoms. A feasibility study titled 'Mindfulness Meditation Training in Adults and Adolescents With ADHD' published in the Journal of Attention Disorders found that meditation led to improvements in self-reported ADHD symptoms and test performance on tasks measuring attention and cognitive inhibition. Improvements in anxiety and depressive symptoms (so common in people with ADHD) were also observed.  A number of other studies have shown improvements in attention in the study subjects that meditated.  And studies have also shown that meditation actually changes the brain in positive ways.
A number of studies have demonstrated that systematic mindfulness training, as well as brief meditation practices by beginners, can influence areas of the brain involved in regulating attention, awareness, and emotion. One study found that compared to a relaxation training control group, 5 days of integrative meditation training – including mindfulness – significantly improved the efficiency of executive attention during a computerized attention test.
Researchers found that mindfulness practices improve:
anxiety
depression
anger
overall wellbeing
joy
hope
contentment
long term mental health
eating disorders
attention and concentration
emotional regulation
self-awareness
compassion and acceptance of self and others
psoriasis, fibromylagia, arthritis, low back pain
ADHD
sleep
substance abuse
I'm sure that kids who have trouble concentrating can benefit from some help in many of these areas.  You already know how challenging it can be to find effective strategies to help with these issues. This Meditations for Concentration CD/mp3 will guide kids through nine effective mindfulness skills.  These skills are based on evidence based research that proves their effectiveness.   They are designed to teach kids how to be more mindful in their life while having fun doing it.  All of them help kids stop the busy chatter of the 'monkey brain', slow down, tune in and be more present.  Use of these skills will allow kids to reap the benefits of mindfulness that are proven by research.
Have you already tried everything?
If you have been dealing with a child who cannot concentrate for some time I'm sure you have tried to find a way to help them.  Perhaps some of the more common approaches just don't work for them.
I bet these will sound very familiar to you…
A child who:
has no idea what the teacher just told the class
takes what feels like forever to get his homework done
loses things
doesn't know what the assignment is
completely misses social cues
daydreams and seems spaced out
cannot sit still long enough to eat in a restaurant
has been told to take medication for ADHD
can't focus while playing ball
doesn't know how to act when a friend is over
What if I could provide you with a way to help a child improve their ability to pay attention?
What if your child could:
practice paying attention in class
be able to slow down, calm down and be more present
reduce mental clutter and gain clarity
concentrate better
be mindful when sitting in a restaurant
pick up more social cues
get their homework done faster
be more present playing ball
pay attention better when taking a test?
Hard to Believe?
Well, it isn't.  My Meditations for Concentration CD/mp3 gives you nine fun mindfulness skills that when used regularly have been shown to help with all these things.  This CD provides a collection of guided imagery that you can't get anywhere else.
Get started now, and discover a great way to help kids concentrate better!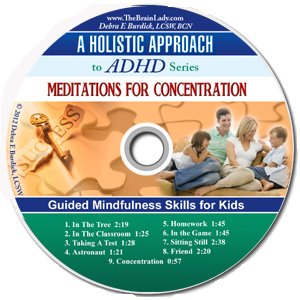 | | |
| --- | --- |
| CD – $20 | |
| Digital MP3 – $9.99 | |
So who am I, and why should you listen to me?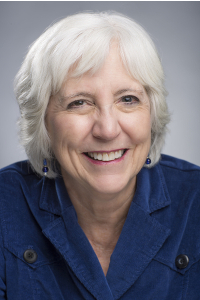 My name is Debra Burdick, LCSW, BCN, and I initially became interested in mindfulness to deal with a chronic illness (now thankfully healed). I found it so helpful in my own life that I started teaching my clients the skills I was using. I went on to develop clinical material on mindfulness skills and created a 4 step process for working with clients using mindfulness that I perfected in my private practice and in an intensive outpatient program. I then created nine short meditations for kids to use their imagination to strengthen their concentration skills. My clients have shown me that mindfulness skills improve the rate and quality of treatment outcomes.  I now incorporate mindfulness skills in all areas of my practice.
As a psychotherapist and Neurofeedback practitioner (now semi-retired), I've helped thousands of adults, children, and their families with ADHD, depression, anxiety, sleep problems, chronic pain, relationship issues, addictions, and stress since 1989, many who felt they had already tried everything. I've learned what works and what doesn't work in the real world from personal experience, from my clients, and from the relevant research. I learned and perfected mindfulness techniques to help my young clients improve their ability to thrive.  I pass this on to you in my Meditations for Concentration CD/mp3 to give you the tools to help you and/or your child, client or student to live a happy and successful life.
I wish I had had this CD/mp3 when my own daughter was young.  She would have loved listening to it while it was helping her brain learn to concentrate better. I am glad I have it now for my own use as well as for my client's use.
Let's take another look at what you get with this Mindfulness Toolkit CD/mp3…
Meditations for Concentration CD/mp3 includes nine effective mindfulness skills designed to help children practice concentrating.
The CD or mp3 contains nine short vignettes ranging in length from 1 minute to 2:38 minutes. Each vignette asks the listener to close their eyes and use their imagination. The vignettes are titled:
In the Tree
In the Classroom
Taking A Test
Astronaut
Homework
In the Game
Sitting still
Friend
Concentration
Listening to these mindfulness exercises trains mindfulness and concentration. They are aimed at kids from 2-12 but many teens have enjoyed them as well. Some of my adult clients have found them helpful but the topic of the vignettes is more relevant to kids and teens. I use them in session and parents often use them at home with their kids.
I have discovered that kids really pay attention while listening to the CD/mp3. Some who listen several times on different occasions actually start to memorize it. In fact, one young boy who was way too cool to listen, gave himself away when he noticed I stuttered on the CD and he immediately said 'ah ha, you made a mistake'.  He was listening to every word while pretending he wasn't.
Parents regularly tell me how the kids start to remind themselves to concentrate using some of the phrases they hear on the CD/mp3.  And parents can reinforce what the kids learn from the CD during the day.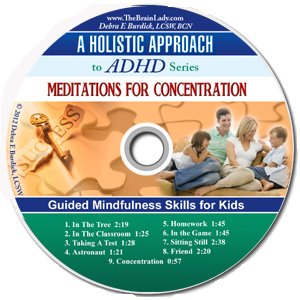 $25.00 Value.  $20.00 for a limited time
| | |
| --- | --- |
| CD – $20 | |
| Digital MP3 – $9.99 | |
Applicable tax, shipping, and handling are added at final checkout.
Let's Take a Look at Everything You're Getting.
You get a CD or mp3 containing nine effective, guided mindfulness skills that effortlessly teach kids to increase their mindfulness in their everyday.
Everything we've been talking about is yours for the one-time payment of $25.00 $20.00 for a limited time or $9.99 for the mp3 version.
Can you afford NOT to order right now?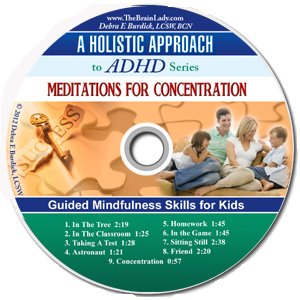 | | |
| --- | --- |
| CD – $20 | |
| Digital MP3 – $9.99 | |


Debra Burdick, LCSW, BCN – The Brain Lady
P.S. I want you to experience my CD/mp3 for yourself and see how these mindfulness skills will help the children in your life. I know you will love how the children react when they listen to the very first meditation on Track 01.
P.P.S. Meditations for Concentration CD/mp3 is being used by parents, health care professionals, teachers, and therapists how to help kids of all ages thrive. Isn't it your turn?