ADHD Non-Medication Treatments & Skills for Children and Teens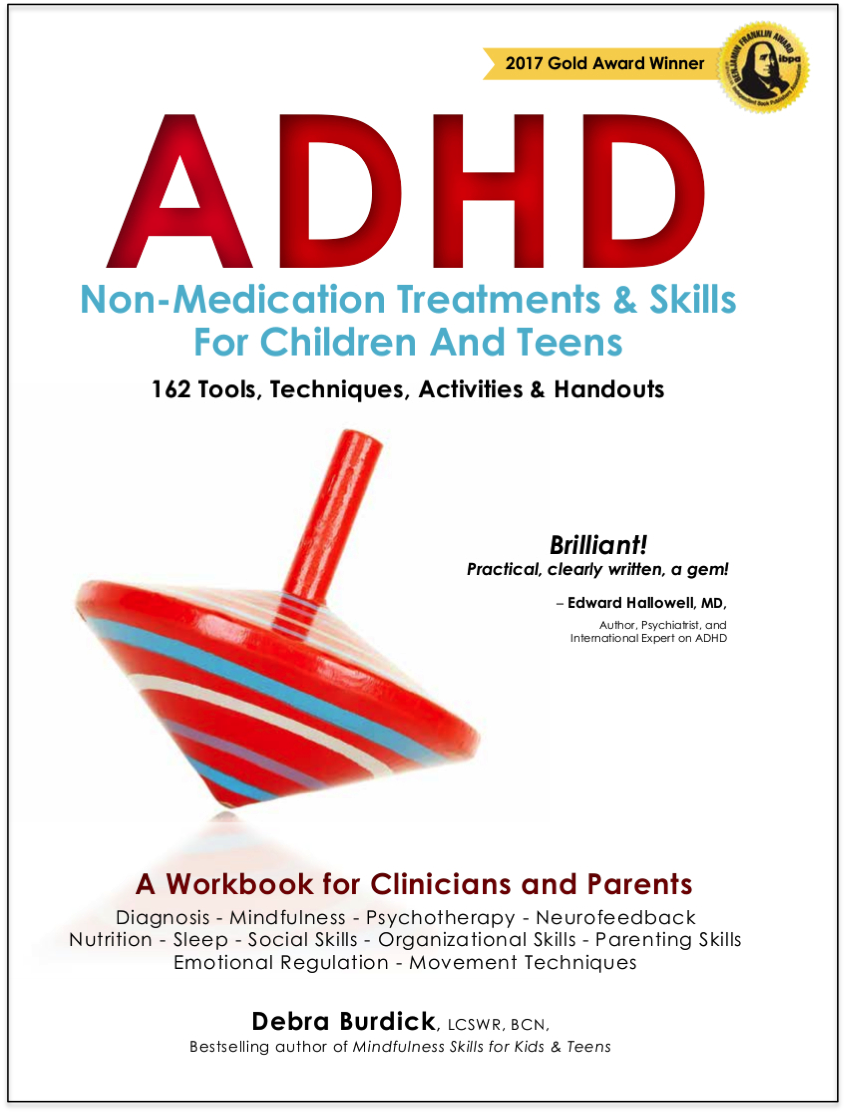 Help children and teens thrive with ADHD!
Winner of the Benjamin Franklin 2017 GOLD award in Psychology!
This book is designed specifically for both clinicians and parents who are looking for non-medication treatments and skills to help children and teens with ADHD thrive.  It is jammed packed with tools, techniques, activities and handouts that you can use right away instead of, or in addition to, medication for ADHD. You will find a link inside to download a free pdf version of all the handouts!
You may already be familiar with my work through my Mindfulness Skills Workshops, webcasts, teletrainings, books, CDs and articles.

This practical workbook is the most comprehensive ADHD resource available! It gives you the most effective, and proven, non-medication treatment approaches and skills.
Step-by-step instructions on tailoring psychotherapy to ADHD
ADHD-friendly parenting skills
Techniques for emotional and behavioral regulation
Activities for improving social skills
Tools for diagnosis
Skills for organizing time, space and activity
Mindfulness skills for ADHD
Neurofeedback
Downloadable handouts, exercises, activities and resources
And much more!
This is the book I wished I had when my daughter was first diagnosed with ADHD over 25 years ago. You know how you find out everything you can to help your own child? My daughter and my work helping thousands of clients of all ages have taught me what does and doesn't work for those with ADHD. I put everything they taught me as well as what I've learned from 25 years of learning about the brain and ADHD in this book. It covers all the pieces of the puzzle to help children and teens with ADHD truly thrive.
Here's what other ADHD experts and mental health professionals are saying about the book:
A brilliant, practical compendium of tools, resources, ideas and techniques to help children and teens who have ADHD without using medication. Well researched and clearly written, this book is a gem!
Edward Hallowell, MD, author, psychiatrist and international expert on ADHD.
Medication which should be a last resort for kids with ADHD has become the knee-jerk first and often the only offered treatment. This speaks to the crucial importance of Debra Burdick's latest book "ADHD: Non-Medication Treatments and Skills for Children and Teens".  The book offers one hundred and sixty two techniques, tips, activities and resources that can be used instead of medication to manage and moderate the worst ADHD symptoms. I highly recommend this book for parents, either dealing with a new ADHD diagnosis in a child or for those who wish to try another option other than medication.
Dr. Dale Archer, Psychiatrist and NY Times bestselling author of "Better Than Normal" and "The ADHD Advantage".
Debra Burdick did it again!  Following the success of her mindfulness book for kids and teens, she offers an array of non-medication treatment skills for ADHD. Anyone working with children and teens will find this a treasure chest of practical, "hands on," effective and engaging tools and activities that are easy for the clinician to use.
Tips for identifying and diagnosing ADHD, treatment options, nutrition suggestions, valuable tools for social, organizational and mindfulness skills, along with tips for parents makes this book a one stop shop for the practitioner's ADHD toolbox. An invaluable "go-to" resource and a true gold mine!
Judith Belmont, MS, Author of the T.I.P.S and Tools for the Therapeutic Toolbox Series.
An amazingly comprehensive book geared to mental health professionals, parents, teachers, and children of ADHD from a holistic approach. Readers who are seeking a non-medication approach to ADHD have come to the best source! With over 162 tools, techniques, tips, activities, resources and worksheets, it is a perfect 'one stop' book.
ADHD Non-Medication Treatment and Skills for Children and Teens is well organized with sections containing evidence-based, non-medical strategies that will increase the success of children and teens with ADHD in every area of their life. Each chapter offers the background behind each tool, clear step-by-step instructions and guidelines and even case examples. It is strength-based and well rounded in its applications across multiple settings.
The uniqueness of this book is the ability to use each chapter independently or in progression with each other. There are worksheets that you can copy and immediately put into use, as well as references to downloadable worksheets. With eleven sections, this book covers every angle needed in working with ADHD children and teens, from assessment and diagnosing to building self-esteem and concentration to assisting parents and dealing with environmental influences. Each chapter is consistent in offering sections on background information, skill building, resources and integration.
As a parent of an Attention Deficit Disorder child, now an adult, I wish this book was available years ago! But as a professional working with children and teens, it is invaluable now. ADHD Non-Medication Treatment and Skills for Children and Teens. A Workbook for Clinicians and Parents is definitely a 'must have' book for one's professional or personal library
Athena A. Drewes, PsyD, RPT-S, Editor of 9 books on Play Therapy. Director of Clinical Training: Astor Services for Children and Families
ADHD: Non-Medication Treatments and Skills for Children and Teens is a comprehensive collection of strategies and tools for anyone working with ADHD challenged clients or students. Ms. Burdick provides a very accessible reading style and countless well-thought-out strategies. The book covers a wide range of approaches to help these children, their teachers and parents, become more successful in managing ADHD. This would provide a great reference book for any teacher, parent, doctor, or mental health practitioner working with ADHD children or teens.
Roger deBeus, PhD Clinical Trial Principal Investigator: Neurofeedback for ADHD.  Visiting Research Assistant Professor Dept of Psychology, UNC Asheville
Order your copy today and start using it right away to reap the benefits of non-medication treatments and skills in your child's life or in the lives of your clients.