ADHD Products, Books, Audio and Training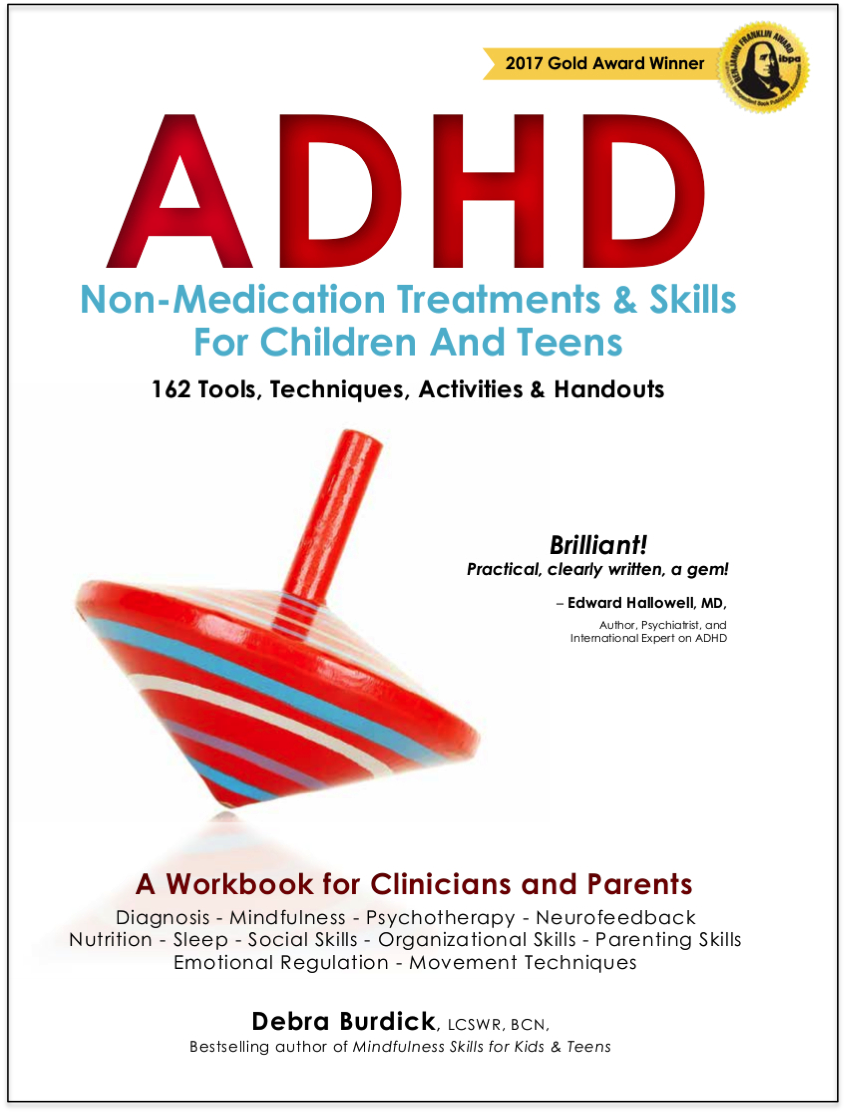 ADHD Non-Medication Treatments & Skills For Children and Teens


Help children and teens thrive with ADHD!
This book is designed specifically for both clinicians and parents who are looking for non-medication treatments and skills to help children and teens with ADHD thrive. It is jammed packed with tools, techniques, activities and handouts that you can use right away instead of, or in addition to, medication for ADHD. You will find a link inside to download a free pdf version of all the handouts!

---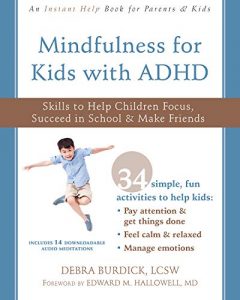 Mindfulness for Kids with ADHD
Skills to Help Children Focus, Succeed in School & Make Friends
An Instant Help Book to help elementary school-aged kids with ADHD successfully navigate all areas of life. 34 simple, fun activities to help kids: pay attention & get things done; feel calm & relaxed; manage emotions and stress. Includes 14 downloadable audio meditations.
---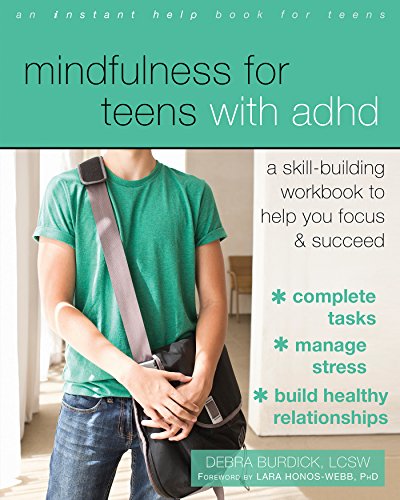 Mindfulness for Teens with ADHD


Help Teens with ADHD thrive using Mindfulness!
Get focused, the mindful way! In Mindfulness for Teens with ADHD, a clinical social worker offers powerful skills based in mindfulness and neuroscience to help you succeed in all areas of life—at home, in school, with friends, and beyond!

---
Mindfulness Skills Workbook for Kids & Teens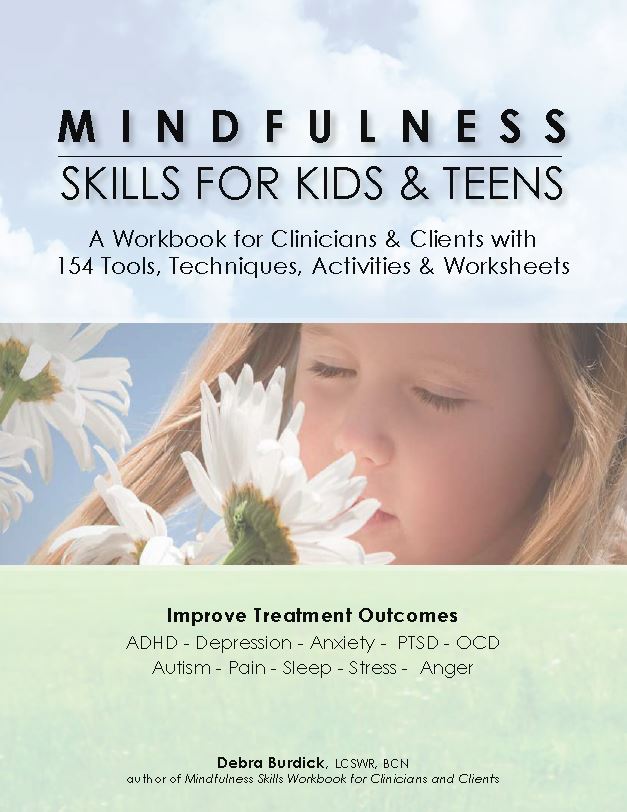 The most comprehensive, practical and user-friendly workbook written specifically for teaching mindfulness skills to children and adolescents.
Best-selling mindfulness author Debra Burdick has blended the latest research and best practices to create this straight-forward guide for improving self-awareness, self-regulation skills, mental health, and social connectedness in kids and teens. This expertly crafted resource features a collection of more than 150 proven tools and techniques, presented in a simple, step-by-step skill building format. Perfect for mental health practitioners, teachers and all in the helping professions. For more information about this book and to order visit Amazon at http://tinyurl.com/kgjjcxk

---
A fun way to introduce Mindfulness Skills to kids through cards or by playing card games!
The card deck provides 52 fun exercises and practices to help kids:
calm their mind and body
pay attention
become more self-aware
feel happier and confident
connect with others
and have fun!
The deck can be used as individual exercises, or as card games (based on popular children's games) that encourage kids to practice a mindfulness skill each time they win a hand. Great for therapists, teachers, parents and grandparents. Perfect for ages 4 and up.
The cards are split into 4 colors and numbered just like a regular deck of cards so that any children's card game can be played. The winner of a hand can pick a mindfulness skill from their cards to do. The rules for 3 sample card games are included, including Go Within (based on Go Fish), Peace Talks (based on War), and Mindful Rummy.


---
Meditations for Concentration CD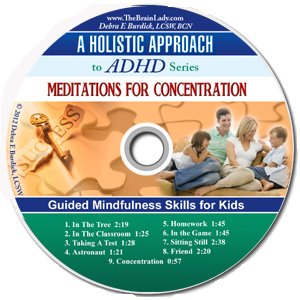 Attention: Any parent, teacher or therapist who works with kids who is looking for simple but effective ways to help kids improve their concentration at home, in session and in the classroom.
The Meditations for Concentration CD is a tool that helps kids calm down and be present. It contains nine practical mindfulness skills that you can easily incorporate into your life and work with kids. The CD leads kids through short guided mindfulness meditations that 'use their imaginations' to calm down their 'monkey brain' and learn to be present. Kids love it.
---
Meditation for Sleep Digital MP-3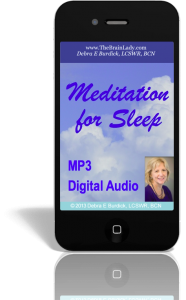 Attention: Anyone who has trouble falling asleep who feels tired, helpless and discouraged. Don't Give Up Yet!
Do you lie awake at night, night after night, wondering when you or your child will ever fall asleep? Are you afraid that either you or your child won't get enough sleep yet again and will be exhausted, cranky, and unproductive tomorrow?
Imagine… You or Your Child Finally Falling Asleep Easily Every Night and Waking Up Every Morning Feeling Refreshed And Energized!
If you are like me you may feel powerless and you don't know what to do next.


---
Mindfulness Toolkit: Practical Mindfulness Skills CD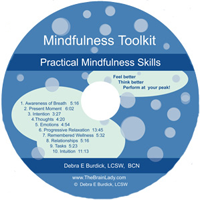 Do you have a stressful life? Do you worry that you, your child, or your clients or students are being negatively impacted by the constant stressors present in today's society? Are you afraid that stress might be making you sick or anxious or depressed? Are you looking for holistic strategies that will help decrease the effects of stress in your life or you client's or student's life?
Finally, an easy to use approach to mindfulness that gently guides you through a practical process to become more mindful in all areas of your life.
---
Mindfulness Toolkit for Kids: Practical Mindfulness Skills – MP3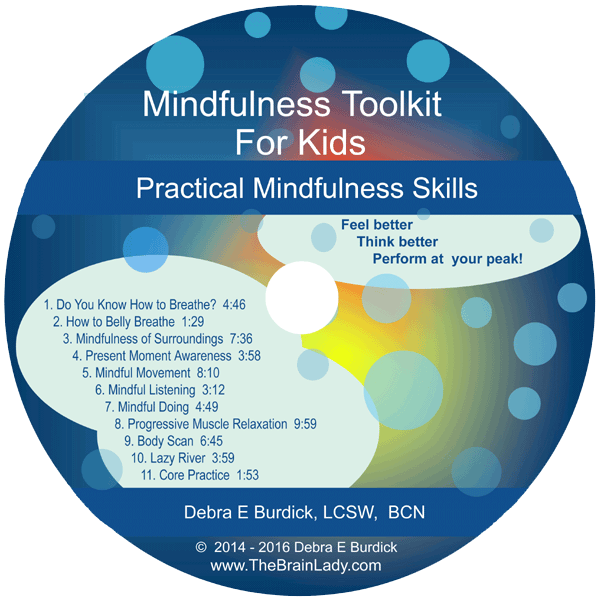 Dear Parent, Therapist, or Teacher, Are you looking for holistic strategies that will help your child be able to calm themselves down, decrease anxiety, improve mood, organize better, remember things and manage their anger? Do you wish your child could pay attention longer? Would you like to help decrease the effects of stress in your child's, client's or student's life?
Finally, here's an easy approach to mindfulness that gently guides kids to become more mindful in all areas of their life.
For more information click here

---
PESI DVD Training:
Childhood ADHD: Advanced Non-Drug Treatments and Strategies That Change the Brain
Efficacy and benefits of non-drug treatments
Techniques that change the brain to improve ADHD symptoms
Options for treating the whole child
A deeper understanding of non-drug treatment for childhood ADHD
Although medication has been the traditional first line of treatment for childhood ADHD, there are many kids and teens for whom medication is not the best option. You will learn when to consider and how to incorporate non-drug options into your treatment plan. The more you understand about the non-drug treatments for ADHD the more comprehensive, individualized and effective your treatment will be.
Learn about cutting edge non-drug treatments for ADHD as well as the efficacy and neurobiology of each treatment. Finally understand what neurofeedback is, how it works, and why the American Academy of Pediatrics added biofeedback/neurofeedback to its list of best treatment modalities for ADHD. You will learn and practice brain-based mindfulness skills that help kids and teens slow down, calm down, concentrate, and feel better about themselves. Master skills for helping kids, teens, and their parents make ADHD-specific changes in their diet, sleep, behavior, organization, exercise, and environment that support their success. Options for addressing low self-esteem, depression, and anxiety that so often accompany ADHD will also be discussed.
Debra Burdick, LCSWR, BCN, a psychotherapist, neurotherapist, author and ADHD and mindfulness expert will show you how to put all the pieces together and give you new skills that will improve your treatment outcomes for working with clients with ADHD. The day will include case examples, experiential learning, tools for tracking treatment progress and a wealth of worksheets and resource materials to use with your clients.

---
Is It Really ADHD? Only ADHD?
How to Get an Accurate Diagnosis for You or Your Child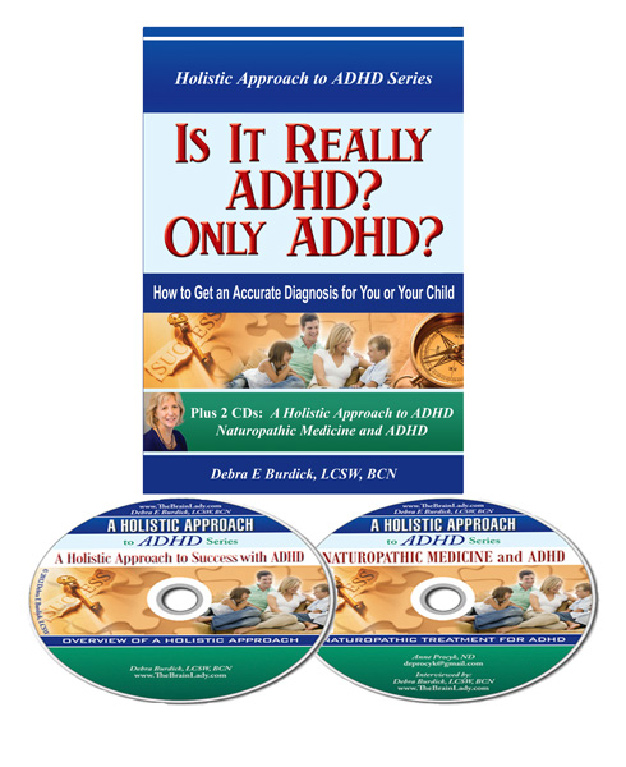 Adults with ADHD and parents of children with ADHD. If you wonder if you or your child have ADHD or if you wonder what makes your ADHD symptoms worse, here's the answer to all your questions.
Imagine…Finally recognizing exactly what the symptoms of ADHD are; Understanding the most effective approach to get an accurate diagnosis for ADHD; Knowing how to determine if the symptoms you are concerned about are really symptoms of ADHD; Knowing what makes ADHD symptoms even worse; Understanding essential steps involved in getting an accurate diagnosis; Feeling confident that you are doing absolutely everything possible to effectively deal with ADHD.
Finally, an easy to use holistic approach to help you get an accurate diagnosis for yourself or your child even if you have already tried everything else.

---
ADHD Treatment Options
How to Choose the Right Treatment for You or Your Child
Imagine… Finally understanding more about the most effective ADHD treatment options available; Knowing how to choose the treatments that are right for you or your child; Knowing how to find a solution to the problems that ADHD symptoms cause in your life or your child's life; Feeling confident that you are doing absolutely everything possible to effectively deal with ADHD.

---
ADHD and SLEEP: CHILDREN and ADULTS: Sleep Better Tonight
Imagine… Yourself or Your Child Getting Plenty Of Sleep Every Night, Getting To Bed On Time, Falling Asleep Easily, Getting Up On Time Every Morning Feeling Refreshed And Energized!
Finally, a one-stop holistic blueprint to help yourself or your child with ADHD get great sleep even if you have already tried everything else.

---
A Holistic Approach to Successful Children with Attention Deficit/Hyperactivity Disorder. A Home Study System for Parents.
The Proven 14 Step System to Unlock Your Child's Potential and Create Success in all Areas of Their Life. Includes the manual, worksheets and eleven CD's containing interviews with experts and more.