Mindfulness
Mindfulness Skills Workbook for Clinicians and Clients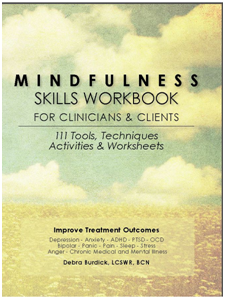 Mindfulness Skills Workbook for Clinicians and Clients. 111 Tools, Techniques, Activities and Worksheets. This book is being described as the most comprehensive mindfulness skills workbook available!
Like no other resource, Mindfulness Skills Workbook combines the latest research and best practices – all in a simple guide to successfully teach mindfulness to your clients and to yourself. This comprehensive workbook provides the theory behind each tool, a step-by-step process to implement, and expert guidance on processing results. For more information about this book and to order visit Amazon at http://tinyurl.com/pre8hev



---
Mindfulness Skills Workbook for Kids & Teens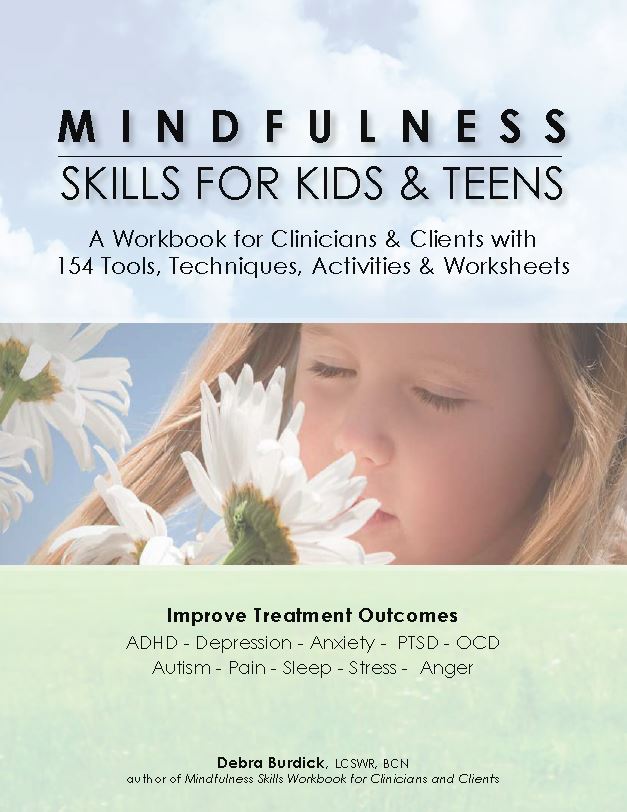 The most comprehensive, practical and user-friendly workbook written specifically for teaching mindfulness skills to children and adolescents.
Best-selling mindfulness author Debra Burdick has blended the latest research and best practices to create this straight-forward guide for improving self-awareness, self-regulation skills, mental health, and social connectedness in kids and teens. This expertly crafted resource features a collection of more than 150 proven tools and techniques, presented in a simple, step-by-step skill building format. Perfect for mental health practitioners, teachers and all in the helping professions. For more information about this book and to order visit Amazon at http://tinyurl.com/kgjjcxk

---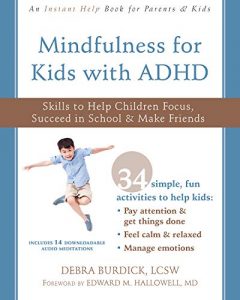 Mindfulness for Kids with ADHD
Skills to Help Children Focus, Succeed in School & Make Friends
An Instant Help Book to help elementary school-aged kids with ADHD successfully navigate all areas of life. 34 simple, fun activities to help kids: pay attention & get things done; feel calm & relaxed; manage emotions and stress. Includes 14 downloadable audio meditations.

---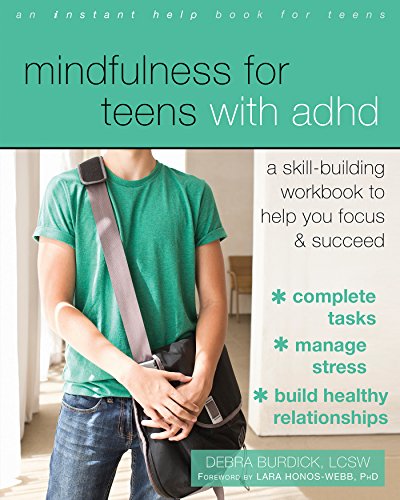 Help Teens with ADHD thrive using Mindfulness!
Get focused, the mindful way! In Mindfulness for Teens with ADHD, award-winning, #1 best-selling author and clinical social worker Debra Burdick offers powerful skills based in mindfulness and neuroscience to help you succeed in all areas of life—at home, in school, with friends, and beyond!
As if being a teen wasn't tough enough, attention deficit/hyperactivity disorder (ADHD) can make everyday life even more difficult—from struggling in school to relationship troubles with family and friends. When you just can't focus, life can get lost in the balance. And to make matters worse, you might also feel stressed or have trouble sleeping and eating well. So, how can you gain focus and start feeling better right away?

Mindfulness for Teens with ADHD offers fast, easy mindfulness skills to help you successfully navigate all the areas of life, including making good choices, completing tasks, increasing academic success, excelling at sports, driving safely, getting enough sleep, managing stress, and more. By paying attention to the moment, you'll find yourself less distracted and better able to focus on what's going on right now—whether it's an algebra test, a job interview, or an important conversation with a friend.
The mindfulness activities in this workbook will also help you build self-awareness and practice self-reflection—key skills to succeeding in life! These skills will help you start feeling more focused, less stressed, and gain confidence in your ability to reach your goals. Plus there are 15 downloadable meditations to help you thrive!
So, what are you waiting for?
You may already be familiar with my work through my Mindfulness Skills Workshops, webcasts, teletrainings, books, CDs and articles.

---
A fun way to introduce Mindfulness Skills to kids through cards or by playing card games!
The card deck provides 52 fun exercises and practices to help kids:
calm their mind and body
pay attention
become more self-aware
feel happier and confident
connect with others
and have fun!
The deck can be used as individual exercises, or as card games (based on popular children's games) that encourage kids to practice a mindfulness skill each time they win a hand. Great for therapists, teachers, parents and grandparents. Perfect for ages 4 and up.
The cards are split into 4 colors and numbered just like a regular deck of cards so that any children's card game can be played. The winner of a hand can pick a mindfulness skill from their cards to do. The rules for 3 sample card games are included, including Go Within (based on Go Fish), Peace Talks (based on War), and Mindful Rummy.


---
Mindfulness Toolkit: Practical Mindfulness Skills CD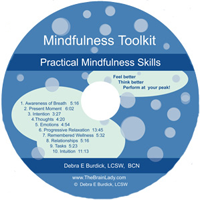 Do you have a stressful life? Do you worry that you, your child, or your clients or students are being negatively impacted by the constant stressors present in today's society? Are you afraid that stress might be making you sick or anxious or depressed?  Are you looking for holistic strategies that will help decrease the effects of stress in your life or you client's or student's life?
Finally, an easy to use approach to mindfulness that gently guides you through a practical process to become more mindful in all areas of your life.
---
Mindfulness Toolkit for Kids: Practical Mindfulness Skills – MP3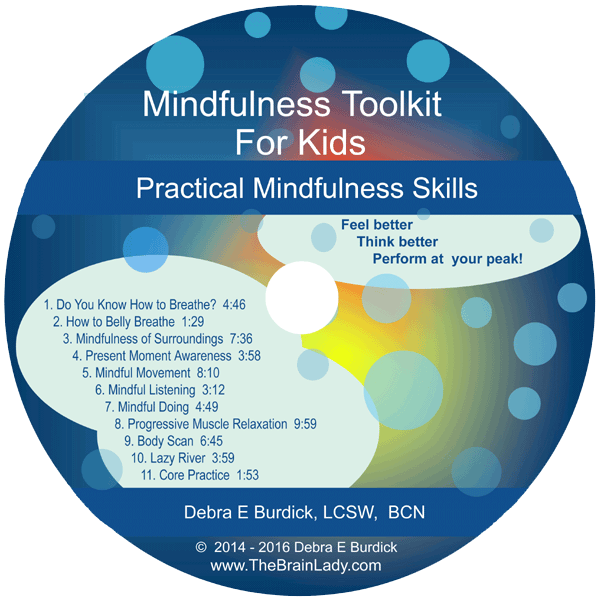 Dear Parent, Therapist, or Teacher, Are you looking for holistic strategies that will help your child be able to calm themselves down, decrease anxiety, improve mood, organize better, remember things and manage their anger? Do you wish your child could pay attention longer? Would you like to help decrease the effects of stress in your child's, client's or student's life?
Finally, here's an easy approach to mindfulness that gently guides kids to become more mindful in all areas of their life.
For more information click here

---
Meditations for Concentration CD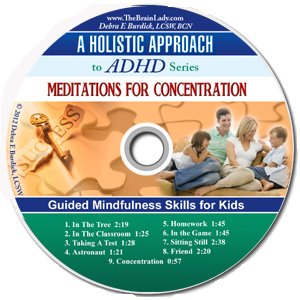 Attention: Any parent, teacher or therapist who works with kids who is looking for simple but effective ways to help kids improve their concentration at home, in session and in the classroom.
The Meditations for Concentration CD is a tool that helps kids calm down and be present. It contains nine practical mindfulness skills that you can easily incorporate into your life and work with kids. The CD leads kids through short guided mindfulness meditations that 'use their imaginations' to calm down their 'monkey brain' and learn to be present. Kids love it.
---
Meditation for Sleep Digital MP-3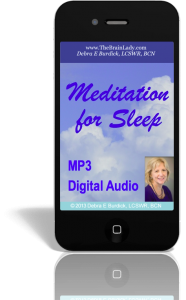 Attention: Anyone who has trouble falling asleep who feels tired, helpless and discouraged. Don't Give Up Yet!
Do you lie awake at night, night after night, wondering when you or your child will ever fall asleep? Are you afraid that either you or your child won't get enough sleep yet again and will be exhausted, cranky, and unproductive tomorrow?
Imagine… You or Your Child Finally Falling Asleep Easily Every Night and Waking Up Every Morning Feeling Refreshed And Energized!
If you are like me you may feel powerless and you don't know what to do next.


---
Mindfulness: The Basics & Beyond – Intensive 3-hour training – Digital Download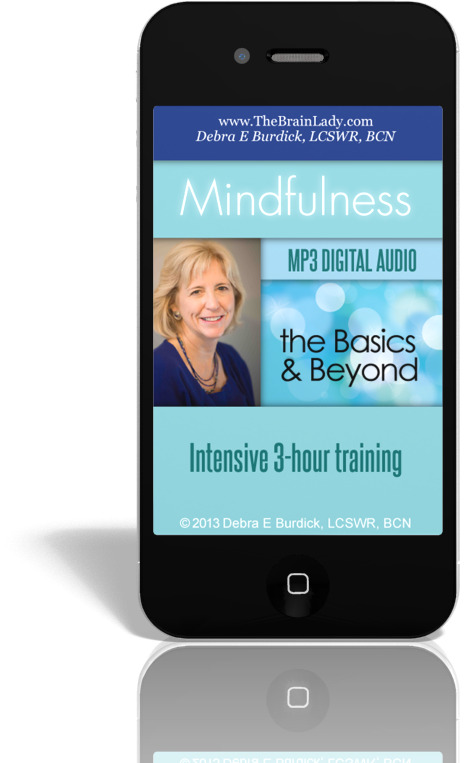 After seeing how well mindfulness worked to manage and heal my own chronic illness I included it in my psychotherapy and neurotherapy practice. I was amazed at how quickly mindfulness helped clients feel better. It helped them with anxiety and panic, depression, sleep, stress, ADHD, concentration, hyperactivity, relationships, addictions, school and business success.
If you are like most people these days your life is busy and often stressful. You might be looking for holistic ways to manage physical and emotional health.
My intensive three-week telesetraining Mindfulness-Basics and Beyond will give you skills to address all of these issues and help you make your life work better.
---
PESI DVD Training: 100 Brain-Changing Mindfulness Techniques to Integrate Into Your Clinical Practice
Become more effective in treating anxiety, depression, ADHD, OCD, sleep and pain by incorporating mindfulness skills with evidence-based treatments
First session strategies for anxiety – calm your clients with mindfulness interventions you can teach on their very first day of treatment!
Implement a 4-step process to integrate Mindfulness into your practice
Enhance your treatment plans for anxiety, depression, ADHD, OCD, bipolar disorder, sleep, pain, and stress with brain-changing mindfulness skills tailored to the problems your clients face each day.
Watch this workshop and get detailed guidance on the hows, whys, and whens of incorporating core and advanced mindfulness skills into your clinical practice. Build your client education skills and improve therapeutic engagement with clear explanations regarding the neurobiology behind mindfulness. Interactive demonstrations and step-by-step instruction on specific interventions and exercises will give you the tools you need to treat a variety of disorders and populations. And the opportunity to practice under the direction of our instructor will boost your confidence in using your new skills. Better still, you'll walk away with a four-step process that ties it all together, making what you've learned immediately relevant to your own work with clients.


---
PESI DVD Training: Mindfulness Toolkit for Kids and Teens: Skills to Teach Your Clients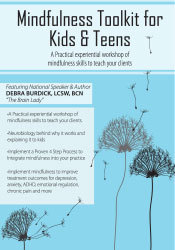 Finally, the Mindfulness Skills that have helped millions of adults improve their health, happiness, and relationships have been adapted for children and teens. This workshop recording will teach you well established mindfulness skills for helping children and teens improve concentration, emotion regulation, resilience to stress, and positive mind set. You will personally experience the process of doing each of the skills and processing your own results that you can apply to your work with your clients. You will learn a proven 4 step process for integrating Mindfulness into your practice. You will learn the Neurobiology behind Mindfulness and simple ways to explain this to children. The speaker incorporated Mindfulness Skills into her practice with adults and children after she used them to heal from a chronic illness and taught them to her daughter to help with ADHD and sleep. This seminar recording will focus on experiential learning and will include PowerPoint slides, and case examples.


---