Parenting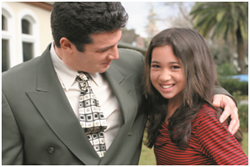 Parenting is one of the most rewarding and at the same time, challenging roles we ever have. Most of us were never taught to be good parents.  And many of us worry that we are not good enough at parenting and that we should be doing more to help our kids.
Learning specific parenting skills can be very rewarding, especially when we see our children behaving better and thriving.  Psychotherapy can be very effective at helping parents communicate with their kids, manage their behavior, manage their own emotional response to the behavior of their kids, and generally put the parents back in charge.
Here are some quick tips for parents
Parent/Child Relationship – make it work
Understand expectations You have for your child
Manage anger
Love your child unconditionally
Be a good role model
Provide structure
Use humor
Communicate

Get their attention
Touch them on their arm or shoulder
Have them repeat back what they heard

Power Struggles

Avoid them
Gives choices
Tell them what you expect and by when
Give reward or consequence

Parents are in charge – not child
Say 'No' only when you mean it
Schedule a family meeting regularly
Make child accountable
Remember Grandma's Rule

Never let the child have the privilege before the desired task is done
I'll never forget the session when I first met T.  He was six years old and his parents brought him to see me for help with intense anger, out of control behavior, and symptoms of ADHD.  As I interacted with T and observed how his parents interacted with him it became clear that T was 'in charge' in this family.  When it was time to put the toys away he refused and then grabbed a game board and tried to break it in half.  His parents just sat there.  He kept playing with the toys even after they told him many times 'it's time to go'.  But they didn't take any action.  They just got up and stood in the middle of the room and waited while he kept playing.  So he was left in charge and the family had to wait for him to decide he was ready to go.  I took charge and ended the session.  Then I spent the next few sessions teaching these parents how to be in charge.  It was wonderful and amazing how T's behavior improved when he wasn't in charge anymore and when he got appropriate consequences for inappropriate behavior.
I teach parents to ask themselves 'what does this child need from me' and then to give some thought to the answer.  Children need their parent's unconditional love.  The kids need to know their parents love them even if they don't like their behavior.  The kids need structure and limits.  They need their parents' positive regard, encouragement, kindness, guidance.  They need rules and consequences for breaking the rules.  They need to know they are terrific, awesome, talented, beautiful, and great to have around.  They need to know the parents are so happy to be their parents.
Whenever I work with a child I schedule periodic parent guidance sessions.  The child does not live in a vacuum and parents need to be part of the treatment process.  As a parent, do not expect to drop off your child to be 'fixed' like you take a car in for service.  That's not the way it works here.  You must be willing to be involved in treatment along with your child.  Improvement occurs much more rapidly and effectively when you take part.
If your child has ADHD read A Holistic Approach to Successful Children with Attention Deficit/ Hyperactivity Disorder – A Home Study System for Parents.
Caution:  The information presented here is for your reference only and should not be used to diagnose or treat any condition. It is not intended to substitute for the advice of you or your child's medical doctor or mental health professional.
PLEASE NOTE: As of December 31, 2014  Deb has retired from her private practice and is no longer accepting new clients so that she can concentrate on writing and teaching.  The above is for historical/informational purposes only.