ADHD and Sleep
CHILDREN AND ADULTS:
Sleep Better Tonight!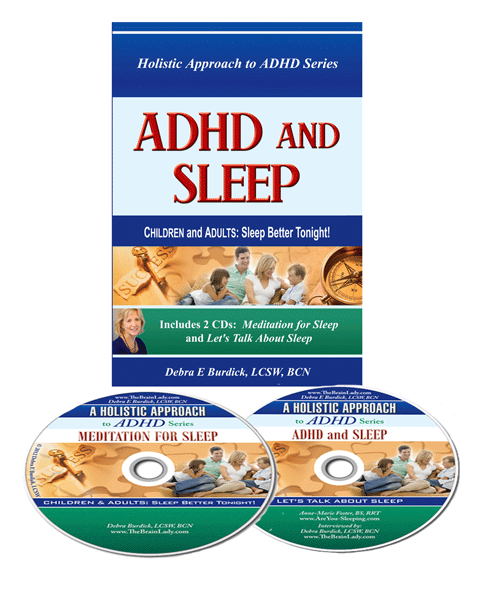 Attention:  Exhausted adults with ADHD and worn out parents of children with ADHD who feel tired, helpless and discouraged.  Don't Give Up Yet!
Imagine… Yourself or Your Child Getting Plenty Of Sleep Every Night, Getting To Bed On Time, Falling Asleep Easily, Getting Up On Time Every Morning Feeling Refreshed And Energized!
Finally, a one-stop holistic blueprint to help yourself or your child with ADHD get great sleep even if you have already tried everything else.
Dear Adult with ADHD or Parent of a Child with ADHD,
Do you lie awake at night worrying that you or your child will never fall asleep?  Are you afraid that you or your child won't get enough sleep yet again and will be exhausted, cranky, and unproductive tomorrow?
Do you worry that you or your child's ADHD symptoms will be worse than ever because you or your child can't get enough sleep?
I've been where you are. I raised a child with ADHD who had a significant sleep problem.  It felt like she could never fall asleep. Sometimes it was already getting light out when she finally did.  And then she couldn't get up in time for school.  And when she did get up she was grumpy, irritable, and impatient and had even more trouble concentrating and sitting still than usual.
If you are like me you feel powerless, and you don't know what to do next.
Do you find that you or your child are often too busy to go to bed?  Do you have trouble getting into a regular nighttime routine?  Do you stay up too late to get up in time for school or work?  Do you get easily distracted and forget to get to bed on time?  Do you suspect that some foods and drinks keep you or your child awake?  Do you know what else interferes with sleep?  Do you know how to set up you or your child's bedroom to get the best sleep?
You are not alone!
Did you know that research confirms that ADHD can have a huge impact on an adult's or a child's sleep? Various studies have found that between 25% and 50% of children with ADHD have sleep problems as reviewed in Sleep 2009. Children with ADHD take longer to fall asleep, sleep less total time, have more daytime sleepiness and have differences in their sleep architecture than kids without ADHD.
A study reported in the 2009 Journal of Clinical Psychiatry found that adults with ADHD went to bed later than control subjects, were more likely to take over an hour to fall asleep, and were more likely to experience difficulty going to bed, going to sleep, sleeping restfully, or waking in the morning. They experienced daytime sleepiness more often and reported more sleep problems than controls. Between nineteen and thirty two percent of people with ADHD have at least moderate sleep problems.  And taking stimulant medication can raise this to sixty one percent.  Holy Moly!  You are not alone!
I'm sure you already know how much poor sleep can impact ADHD symptoms.  Some people with ADHD have stated that getting one bad night's sleep makes their ADHD symptoms increase to ADHD symptoms 'squared'!
If ADHD is impacting your sleep or the sleep of your child you are probably frustrated because you've already tried everything and don't know where to turn next.  You are tired, worn out.  And the more you think about not being able to sleep, the more trouble you have falling asleep.  And if your child with ADHD has trouble sleeping you certainly aren't sleeping well either.
Have you tried it all?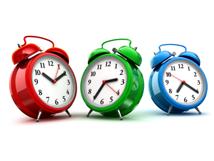 If you have been dealing with a sleep problem I'm sure you have tried to find something that would help.  I'm sure you found that many common sleep remedies just don't work for you or your child.
When you're dealing with ADHD, one size does NOT fit all.  ADHD impacts sleep in unique ways and therefore you need unique solutions.
I bet these will sound very familiar to you…
Trying to get to bed at a reasonable hour and realizing you got distracted by a project and now it's very late
Trying to get your child with ADHD to stay in bed and lie down long enough to fall asleep
Trying sleeping medication and feeling hung over the next day
Trying to get up in time for work or school and sleeping right through the alarm clock – late again
Dragging yourself through the day exhausted and irritable
Feeling fogged in and unable to concentrate or get anything done
Getting a call from school saying your child fell asleep in class again
Working with your child for hours to help them fall asleep and having their eyes pop open while they ask for some water
Trying to find someone or something to help you or your child sleep
Using caffeine during the day to treat your sleep deficit
What if I could help you with every single fear
and concern you have about sleep?
Would you believe me if I told you within a short time you could go to bed and rest easy, knowing that you or your child will…
Be able to relax and go to sleep more easily
Get to bed in time to feel rested the next day
Get enough sleep every night
Get up on time for school or work feeling refreshed
Have more energy every day
Eliminate nighttime battles with your child
Focus better during the day
Better manage ADHD symptoms
Sound too good to be true?
Well, it isn't.  My ADHD and SLEEP, Children and Adults: Sleep Better Tonight book and companion CDs give you all the pieces of the sleep puzzle in one place with a proven approach to success you just can't get anywhere else.
You will set yourself and/or your child on the path to success following proven methods to improve sleep based on the most current sleep and ADHD research.
This book and CDs will help you understand how to sleep better. They teach strategies specific to those with ADHD for designing and following a bed time routine. They teach skills for getting to bed on time. They help learn how to fall asleep faster and provide a meditation that leads you to quiet your busy ADHD mind and allow sleep to come. They provide tactics that help you get up on time.  They review common non-medication treatment options for sleep disorders including Cognitive Behavioral Therapy (CBT), Neurofeedback, and meditation.  They explain sleep related behavior management skills for parents.
You'll finally understand what works, and what doesn't work. You'll learn better ways to set yourself or your child up for better sleep on a regular basis.
Easily.
Plus, you will learn how to apply the wisdom of sleep researchers to take better care of yourself and thrive along the way. What a bonus!
Get started now, and help yourself or your child sleep better tonight!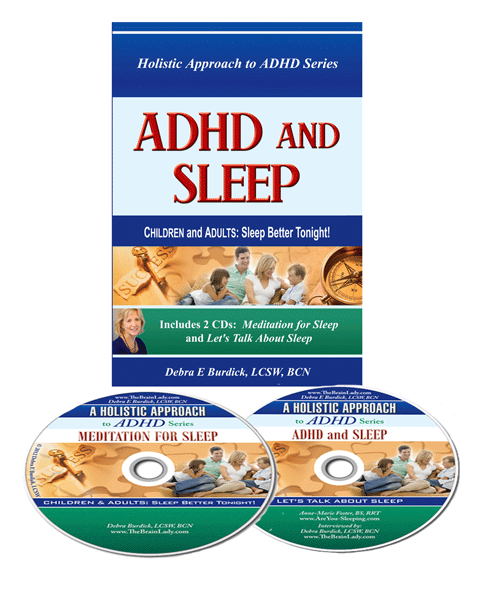 So who am I, and why should you listen to me?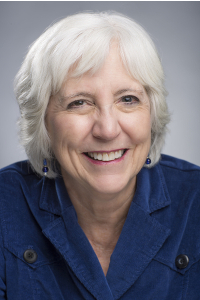 My name is Debra Burdick, LCSW, BCN, and I'm the parent of a child with ADHD who had a significant sleep issue, so I've been where you are. Although I don't have ADHD (yes, there are times when I think I do), I've become an expert on succeeding and thriving with ADHD as I have parented a child with it, was married for 20 years to a man with it, and have been in business situations with a partner who thrives with it.
As a psychotherapist and Neurofeedback practitioner, I've helped thousands of adults, children, and their families with ADHD since 1989 many with sleep issues. I've learned what works and what doesn't work in the real world from personal experience, from my clients, and from the relevant research. I learned and perfected many techniques to improve sleep as I helped my daughter improve her ability to sleep.  I pass this on to you in this book and CD set to give you the tools to help you and/ or your child live a happy and successful life.
I wish I had had this book and CDs when my daughter was young. I know the struggle with having a child who…
Avoids going to bed
Finds every excuse not to stay in bed
Cannot lie still long enough to fall asleep
Has such a busy mind that she can't calm down and relax
Takes stimulant meds which interfere with sleep
Takes hours to fall asleep
Cannot wake up in the morning after falling asleep so late
Is grumpy and out of sorts from being sleep deprived
Has ten times as much trouble concentrating and sitting still when tired
Misses school because she is constantly sick due to sleep
deprivation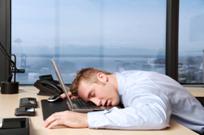 I know the list above applies just as much to adults with ADHD.  And adult sleep issues can also worsen:
Chronic Fatigue
Poor concentration
Task completion
Disorganization
Significant health issues
Poor work performance
Difficulty with relationships with family, friends, and at work
Anxiety and depression
Chronic worry about not being able to sleep
Constantly feeling overwhelmed
Sleep related auto and work related accidents
If any of this sounds like you or your child my book and companion CDs can help you today.
Let's take another look at what you get with this book and companion CDs…
ADHD and SLEEP: CHILDREN and ADULTS: Sleep Better Tonight helps you solve the sleep issues that often accompany ADHD.  It teaches adults with ADHD and parents of children with ADHD about sleep hygiene, helps you get to bed on a regular schedule, fall asleep faster, get to bed in time to get enough sleep, wake up and get up on time.  It gives specific techniques that children and adults can use right away.  It gives parents proven behavior management techniques to help their child with ADHD calm down, stay in bed, and fall asleep on a regular basis.
ADHD and SLEEP: CHILDREN and ADULTS: Sleep Better Tonight includes a wealth of information in an easy to use format.  It is full of tips to help children and adults improve their sleep hygiene, routine, ability to get to bed, fall asleep, and get up on time.
The book includes:
What You Need to Know to Improve Sleep for a Child:

What Interferes with Sleep
Getting to Sleep
Getting Up In The Morning
Action:  Steps to implement suggestions in book

What You Need to Know to Improve Sleep for An Adult

What Interferes with Sleep
Getting to Sleep
Getting Up In The Morning
Action:  Steps to implement suggestions in book
The CD's add essential information and resources
CD 1:  Let's Talk About Sleep
Contains an interview with a sleep expert! She teaches you all
about sleep, sleep stages, what interferes with sleep, how to
get a good night's sleep and much more.
CD 2:  Meditation for Sleep
Progressive Relaxation and Guided Sleep Meditation
Helps all ages relax and fall asleep while they listen
Worksheets help you set up the bedroom, design a sleep schedule, and determine if ADHD medication is interfering and/or helping with sleep
Sleep Required by Age
Tips for the Bedroom
Child/Adult Sleep Schedule forms
Medication/Sleep Diary – are meds interfering with sleep?
"A true wake up call for anyone with ADHD who struggles with sleep. This book is filled with clinically sound strategies proven to enhance your ability to fall asleep, stay asleep, and wake up feeling rested. The skill set you will walk away with from this resource will lead you straight to a good night's sleep!" – Amit Khanna MD, Diplomate, American Board of Sleep Medicine; Sleep Center Medical Director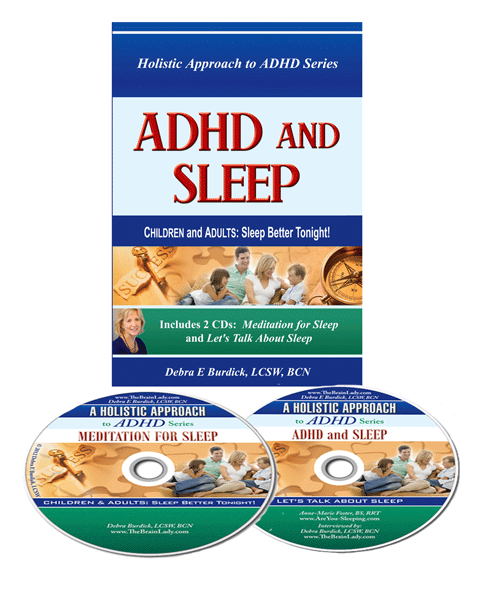 $34.99 Value.  $27.99 for a limited time


Applicable tax, shipping, and handling are added at final checkout.
Let's Take a Look at Everything You're Getting.
You get the solutions to you or your child's sleep problem specifically tailored to ADHD.  You get an hour long interview with a sleep expert.  You get a Meditation for Sleep to help you or your child fall asleep… the worksheets… real-life examples and techniques… and the bonuses.
Everything we've been talking about is yours for the one-time payment of $34.99 $27.99 for a limited time.
Can you afford NOT to order right now?
Let's put all the cards on the table here.
Every day you wait to order this, you'll see yourself or child slipping further and further behind. I know you've tried other programs and read a library of books that didn't work, so you're reluctant to get your hopes up. I was there once, too. I promise you will not be disappointed. I guarantee your success.
You know that the longer you wait to order and get started, the longer you'll wait for results. The time to act is now. You need this information right away!
Are you finally ready to get a good night's sleep?
I'm ready. Send it to me now!
There is NO risk—
You have my personal promise and guarantee.
I am so certain, so positive that ADHD and SLEEP: CHILDREN and ADULTS: Sleep Better Tonight! will work for you that it comes with a money-back guarantee, and you can return the book and CDs for a full refund within 30 days of purchase if you are not completely, 100% satisfied. I personally guarantee it.
But I know once you get ahold of this book and companion CDs and start to use them, you won't give them up for anything. This is the answer you've been searching for and

agonizing over. Don't waste another moment . . . get started now!
I'll ask again . . . can you afford not to get this right now?  You and/or your child's future is at stake.


Debra Burdick, LCSW, BCN – The Brain Lady
P.S. I know these results are hard to believe, but they're true. I want you to experience my book and CDs for yourself, risk-free, and see how my holistic approach to sleep will help you or your child gain control over sleeping at last. It's fully guaranteed so you have nothing to lose.
P.P.S. ADHD and SLEEP: CHILDREN and ADULTS: Sleep Better Tonight! is being used to teach adults, parents, health care professionals, and therapists, how to help people of all ages with ADHD thrive. Isn't it your turn?