Mindfulness Toolkit for Kids – MP3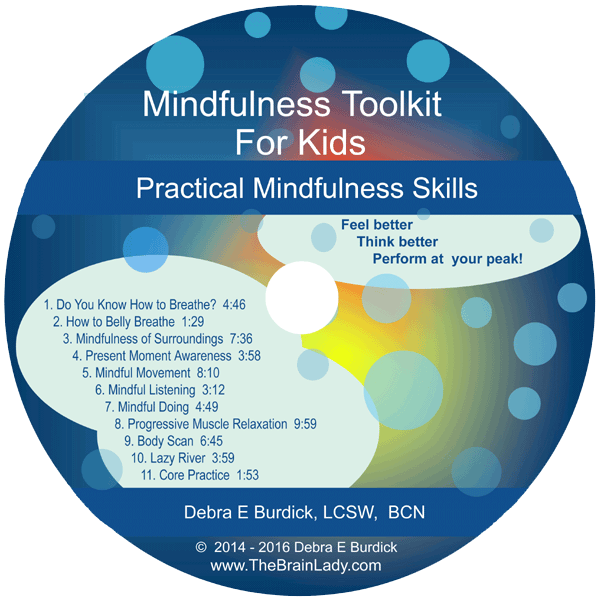 | | |
| --- | --- |
| Digital MP3 – $9.99 | |
Attention:
Parents whose children who are between 3 and 13 years old who want their kids to learn to calm down, focus, regulate their emotions, and reap the benefits of mindfulness
Therapists and teachers who want an effective, practical resource to help their clients or students use mindfulness in and out of session or the classroom
Anyone who wants to help kids reap the emotional, physical cognitive, and spiritual benefits that the compelling research on mindfulness is demonstrating.
Researchers found that children who practice mindfulness like the skills on this mp3 improve:
emotional regulation
social skills
attention and concentration
working memory
planning and organization
self esteem
sense of calmness, relaxation, and self-acceptance
test anxiety
hyperactivity
impulsivity
anxiety
depression
conduct
anger
self-awareness
compassion and acceptance of self and others
ADHD symptoms
These skills are fun and based on evidence based research that proves their effectiveness.  They are designed to teach kids how to be more mindful in their life and to increase self-awareness and self-regulation.  They start with the age old mindfulness technique of awareness of breath and conclude with a core mindfulness practice.  Mindful movement, mindful listening and being mindful during tasks are also included. These skills help kids to stop the busy chatter of the 'monkey brain', slow down, tune in and be more present in their life.
Note: The eleven mindfulness skills on this CD/mp3 are a subset of the 154 skills included in my best-selling book Mindfulness Skills for Kids and Teens. A Workbook for Clinicians and Clients with 154 Tools, Techniques, Activities and Worksheets.
The Mindfulness Skills include:
Do you know how to breathe?
How to Belly Breath
Mindfulness of Surroundings
Present Moment Awareness – Water Glass
Mindful Movements
Mindful Listening
Mindfulness of Task – brushing teeth
Progressive Relaxation – Imagine you are an animal
Body Scan
Lazy River
Core practice for Kids
 Help your child, client or student get started now!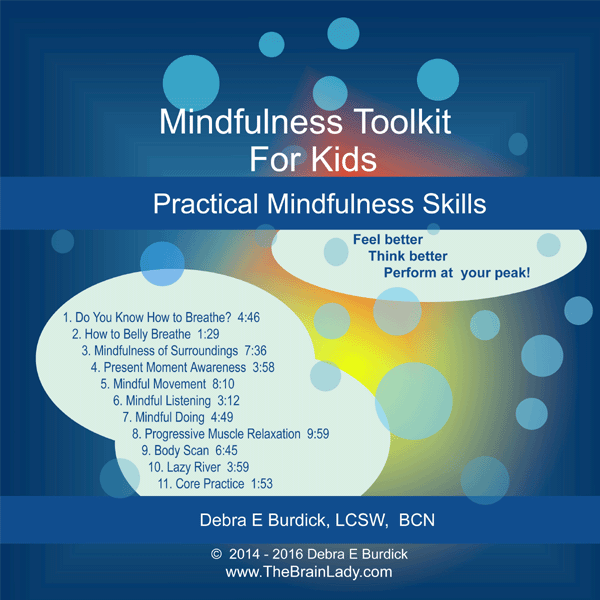 | | |
| --- | --- |
| Digital MP3 – $9.99 | |
P.S. Mindfulness Toolkit for Kids: Practical Mindfulness Skills is being used by kids, parents, health care professionals, teachers, and therapists. Isn't it your turn?