Mindfulness Toolkit for Kids – MP3
Practical Mindfulness Skills
Part of the
Mindfulness Toolkit Series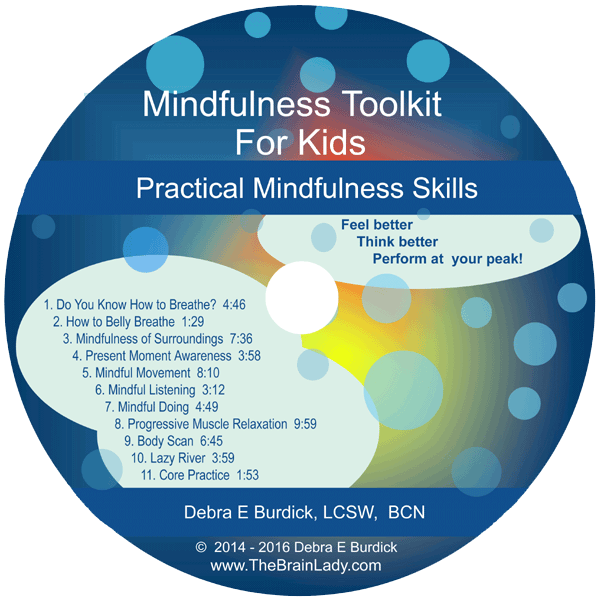 | | |
| --- | --- |
| Digital MP3 – $9.99 | |
Attention:
Parents whose children who are between 3 and 13 years old who want their kids to learn to calm down, focus, regulate their emotions, and reap the benefits of mindfulness
Therapists and teachers who want an effective, practical resource to help their clients or students use mindfulness in and out of session or the classroom
Anyone who wants to help kids reap the emotional, physical cognitive, and spiritual benefits that the compelling research on mindfulness is demonstrating.
What if your child, client or student could:
Finally understand what mindfulness is;
Learn eleven practical mindfulness skills that they can easily incorporate into their daily life;
Use guided mindfulness meditations to calm down their 'monkey brain' and learn to be present;
Decrease anxiety, improve mood, increase concentration, sleep better;
Improve their memory
Decrease the impact of stress on their health and well-being;
Feel happier?
Well, now they can!
Finally, here's an easy approach to mindfulness that gently guides kids to become more mindful in all areas of their life.
Dear Parent, Therapist, or Teacher,
Are you looking for holistic strategies that will help your child be able to calm themselves down, decrease anxiety, improve mood, organize better, remember things and manage their anger? Do you wish your child could pay attention longer? Would you like to help decrease the effects of stress in your child's, client's or student's life?
Do your children, clients or students have trouble with:
concentration
restlessness
depression
anxiety
organization
success at school
relationships
impulsivity
anger
sleep
stress related health issues
feeling overwhelmed?
Do they struggle to:
get things done on time
remember what they are supposed to be doing
manage emotions
stop worrying
get good enough sleep
chill out and relax?
Researchers found that children who practice mindfulness improve:
emotional regulation
social skills
attention and concentration
working memory
planning and organization
self esteem
sense of calmness, relaxation, and self-acceptance
test anxiety
hyperactivity
impulsivity
anxiety
depression
conduct
anger
self-awareness
compassion and acceptance of self and others
ADHD symptoms
I'm sure that our children can all benefit from some help in a few of these areas.  You already know how challenging it can be to find effective strategies to help with these issues. This Mindfulness Toolkit for Kids guides kids through eleven effective mindfulness skills that they can incorporate into their everyday life.
These skills are based on evidence based research that proves their effectiveness.   They are designed to teach kids how to be more mindful in their life.  They start with the age old mindfulness technique of awareness of breath and conclude with a core mindfulness practice.  All of them help kids to stop the busy chatter of the 'monkey brain', slow down, tune in and be more present in their life.  Use of these skills will allow kids to reap the benefits of mindfulness that are proven by research.
Note: The eleven mindfulness skills on this CD/mp3 are a subset of the 154 skills included in my best-selling book Mindfulness Skills for Kids and Teens. A Workbook for Clinicians and Clients with 154 Tools, Techniques, Activities and Worksheets.
Sound Too Good to be True?
Well, it isn't. My Mindfulness Toolkit for Kids: Practical Mindfulness Skills gives you eleven practical mindfulness skills that when used regularly have been shown to help with all these things. This toolkit gives you a set of skills that you can't get anywhere else.
You will discover that children love listening to these easy, guided mindfulness skills. And you will start to notice the benefits right away.
 Help your child, client or student get started now!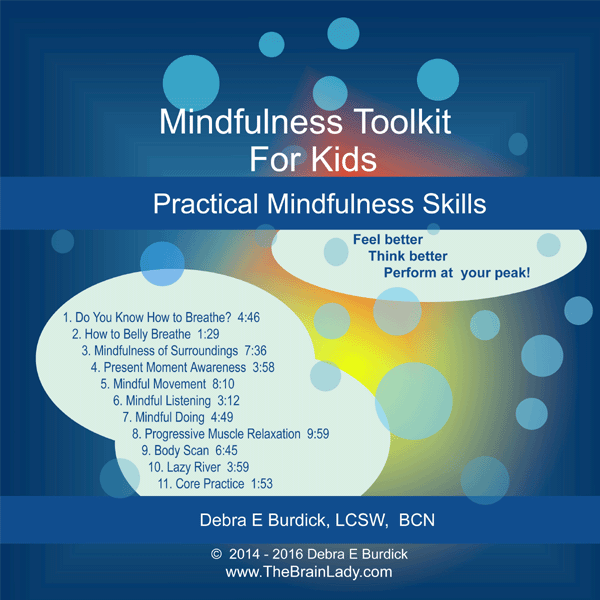 | | |
| --- | --- |
| Digital MP3 – $9.99 | |
So who am I, and why should you listen to me?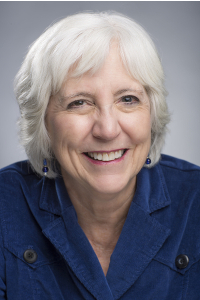 My name is Debra Burdick, LCSW, BCN, and I initially became interested in mindfulness to deal with a chronic illness (now thankfully healed). I found it so helpful in my own life that I started teaching my clients the skills I was using. I went on to develop clinical material on mindfulness skills and created a 4 step process for working with clients using mindfulness that I perfected in my private practice and in an intensive outpatient program. My clients have shown me that mindfulness skills improve the rate and quality of treatment outcomes. I now incorporate mindfulness skills in all areas of my work and life.
As a psychotherapist and Neurofeedback practitioner (now semi-retired), I've helped thousands of adults, children, and their families with ADHD, depression, anxiety, sleep problems, chronic pain, relationship issues, addictions, and stress since 1989, many who felt they had already tried everything. I've learned what works and what doesn't work in the real world from personal experience, from my clients, and from the relevant research. I learned and perfected mindfulness techniques to help my clients improve their ability to thrive. I pass this on to you in my Mindfulness Toolkit for Kids to give you the tools to help you and/or your child, client or student to live a happy and successful life.
I wish I had had this set of mp3 files  for my daughter when she was young.  I am glad I have it now for my grandchildren.
Let's take another look at what you get with this
Mindfulness Toolkit for Kids: Practical Mindfulness Skills includes eleven effective mindfulness skills to help kids incorporate mindfulness into their daily life. These skills are designed to help them feel better, think better, and perform at their absolute peak
The Mindfulness Skills include:
Do you know how to breathe?
How to Belly Breath
Mindfulness of Surroundings
Present Moment Awareness – Water Glass
Mindful Movements
Mindful Listening
Mindfulness of Task – brushing teeth
Progressive Relaxation – Imagine you are an animal
Body Scan
Lazy River
Core practice for Kids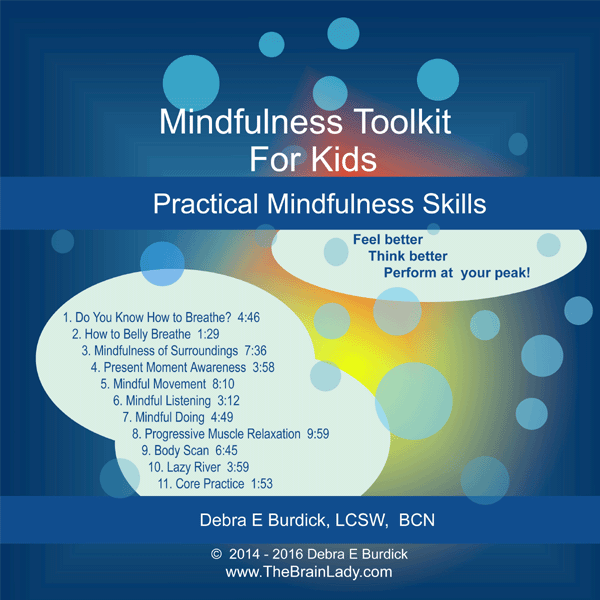 | | |
| --- | --- |
| Digital MP3 – $9.99 | |
Let's Take a Look at Everything You're Getting.
You get a containing nearly an hour of effective, guided mindfulness skills that effortlessly teach your child how to increase their mindfulness in their everyday life.
Everything we've been talking about is yours for the one-time payment of  $9.99 for the mp3 for a limited time.
Can you afford NOT to order right now?
Warmly,


Debra Burdick, LCSW, BCN – The Brain Lady
P.S. Mindfulness Toolkit: Practical Mindfulness Skills is being used to teach adults, parents, health care professionals, teachers, and therapists how to help people of all ages thrive. Isn't it your turn?