Mindfulness
Mindfulness Skills Workbook for Clinicians and Clients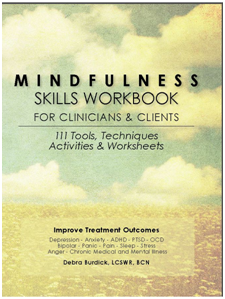 I am so excited to announce the release of my latest book, Mindfulness Skills Workbook for Clinicians and Clients. 111 Tools, Techniques, Activities and Worksheets. This book is being described as the most comprehensive mindfulness skills workbook available!
Like no other resource, Mindfulness Skills Workbook combines the latest research and best practices – all in a simple guide to successfully teach mindfulness to your clients and to yourself. This comprehensive workbook provides the theory behind each tool, a step-by-step process to implement, and expert guidance on processing results. For more information about this book and to order visit Amazon at http://tinyurl.com/pre8hev



---
Mindfulness Skills Workbook for Kids & Teens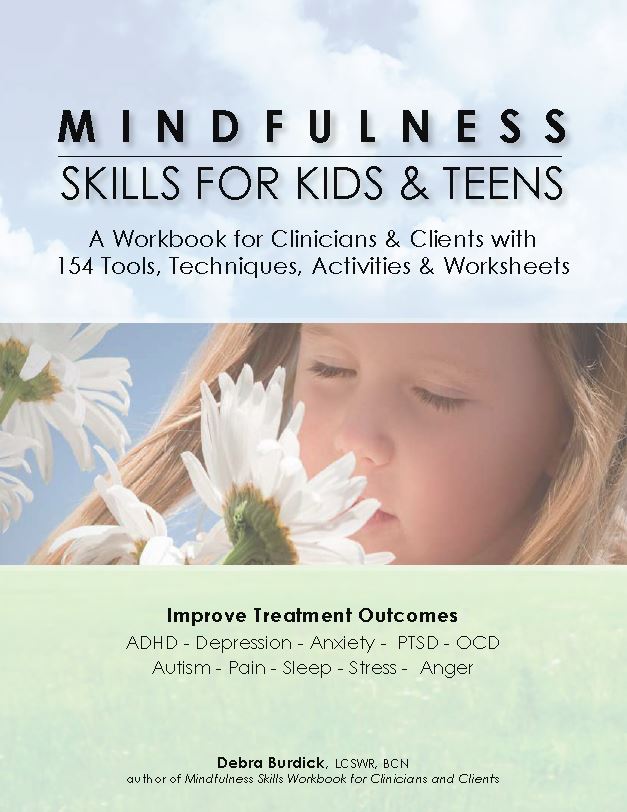 The most comprehensive, practical and user-friendly workbook written specifically for teaching mindfulness skills to children and adolescents.
Best-selling mindfulness author Debra Burdick has blended the latest research and best practices to create this straight-forward guide for improving self-awareness, self-regulation skills, mental health, and social connectedness in kids and teens. This expertly crafted resource features a collection of more than 150 proven tools and techniques, presented in a simple, step-by-step skill building format. Perfect for mental health practitioners, teachers and all in the helping professions. For more information about this book and to order visit Amazon at http://tinyurl.com/kgjjcxk

---
Mindfulness: The Basics & Beyond – Intensive 3-hour training – Digital Download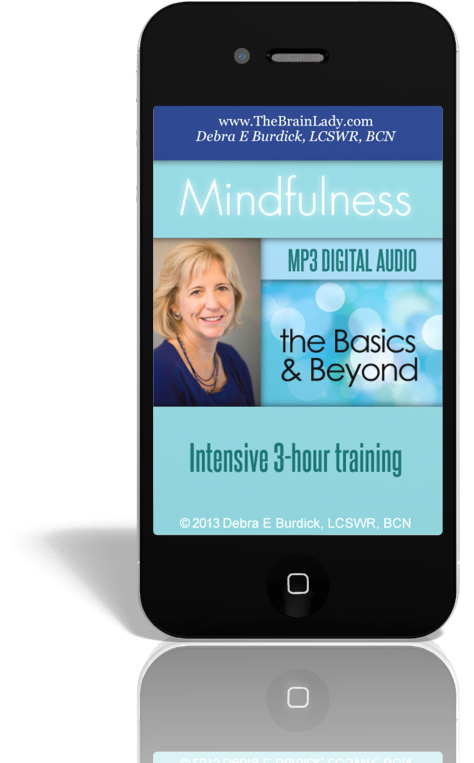 After seeing how well mindfulness worked to manage and heal my own chronic illness I included it in my psychotherapy and neurotherapy practice. I was amazed at how quickly mindfulness helped clients feel better. It helped them with anxiety and panic, depression, sleep, stress, ADHD, concentration, hyperactivity, relationships, addictions, school and business success.
If you are like most people these days your life is busy and often stressful. You might be looking for holistic ways to manage physical and emotional health.
My intensive three-week telesetraining Mindfulness-Basics and Beyond will give you skills to address all of these issues and help you make your life work better.
---
Mindfulness Toolkit: Practical Mindfulness Skills CD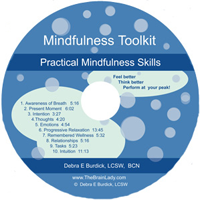 Do you have a stressful life? Do you worry that you, your child, or your clients or students are being negatively impacted by the constant stressors present in today's society? Are you afraid that stress might be making you sick or anxious or depressed?  Are you looking for holistic strategies that will help decrease the effects of stress in your life or you client's or student's life?
Finally, an easy to use approach to mindfulness that gently guides you through a practical process to become more mindful in all areas of your life.
---
Meditations for Concentration CD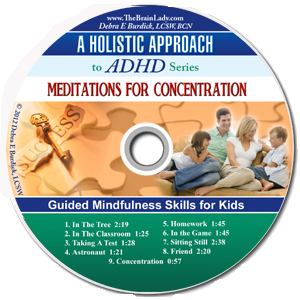 Attention: Any parent, teacher or therapist who works with kids who is looking for simple but effective ways to help kids improve their concentration at home, in session and in the classroom.
The Meditations for Concentration CD is a tool that helps kids calm down and be present. It contains nine practical mindfulness skills that you can easily incorporate into your life and work with kids. The CD leads kids through short guided mindfulness meditations that 'use their imaginations' to calm down their 'monkey brain' and learn to be present. Kids love it.