Posted on July 21, 2014 by Debra Burdick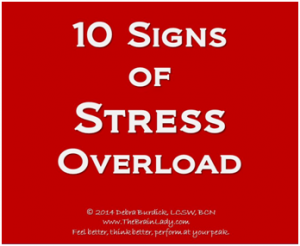 If you are like most people you may experience times of extreme stress in your life.  In today's hectic, fast-paced society we are often dealing with competing demands on our time and energy that make us feel stressed out.  On top of that there are many things that cause added tress to our lives such as financial, health, relationship, employment, family and life-transition stress.
Stress can be deadly!  Therefore, it is extremely important to recognize the stressors in our lives and to find ways to decrease them as well as to lower our stress response.
Use this checklist of 10 signs that you are in danger of stress overload to become more aware of how stress may be affecting you.  Read it over and check off those questions to which your answer is "yes".  If you answer "yes" to more than a couple of them then you are in danger of stress overload and should consider options for making healthy changes right away.  Read 5 Ways To Stop Feeling Stressed Out for some great ideas on how to manage stress.  Or take this more in-depth teletraining Transforming Stress.
Are you having more trouble concentrating and getting things done than usual?

Are you noticing that you keep losing your place in whatever you are doing?
Is your mind just not working as quickly as it normally does?
Does it feel like you just can't stay focused on what you need to do?
Is it taking longer than usual to get things done?

Are you more forgetful than usual?

Does your brain feel fogged in, sluggish?
Are you having trouble remembering what you just did or recalling things that are usually easy to remember?
Are you forgetting to do things or forgetting where you put things?

Do you put a lot of pressure on yourself?

Do you feel like you are constantly under the gun to get things done?
Do you aim for perfection but never feel like you achieve it?
Do you take on too much?
Do you have trouble saying "no"?
Do you keep ending up with more to do that you can get done in the time allotted?
Do you often feel overwhelmed?
Do you carry a lot of tension in your neck, shoulder, or back muscles?
Does your stomach hurt?

Is your mood negatively affected by what goes on during the day? 

Do you feel irritable?
Is your frustration tolerance lower than usual?
Do you get anxious about all the things that are stressing you out?
Do you feel down, sad, or depressed and find yourself thinking lots of anxious or negative thoughts?

Do you feel like you are always running behind schedule?

Does it feel like there is way too much to do for you to get it all done on time?
Are you chronically late because things always take longer than you think they will?
Does being late make you anxious and stressed?
Do you find yourself walking or driving really fast to get everywhere more quickly?
Are you having trouble getting things done according to your schedule?

Are your thoughts racing, negative, or anxious?

What's going on inside your mind?
Are your thoughts busy, racing, or hard to control?
Do you have trouble keeping your mind on the task at hand?
Are you predicting the worst outcome?
Are you constantly worrying, planning, and thinking about what went wrong, or struggling to remember everything you have to do?

Do you find yourself snapping at your loved ones?

Is your fuse shorter than usual?
Do you become easily irritated and use a short, terse, grumpy tone of voice when responding to your partner or your kids?
Do you later realize that what they did didn't deserve your angry response?
Do you feel guilty about the way you have been treating your family?

Do you dread going to work or going home?

Are you wishing you could avoid the stressful things in your life such as work or your home life?
Do you feel totally exhausted even thinking about the stress in your life?
Do you avoid thinking about the stressor rather than addressing it?
Do you feel helpless, trapped, out of control?
Do you find yourself doing anything else rather than confront the stressor?
Are you using drugs or alcohol to escape?

Are there nights when your mind is too busy to sleep?

Do you lie awake while your busy mind reviews all the things you have on your list?
Does your mind race when you get into bed?
Do you feel anxious when you lie in bed?
Do you avoid going to bed because you know your mind will be so busy worrying?
Do you have trouble relaxating your muscle tension?

 Do you have a stress related illness?  Did you know that 75-90% of all visits to primary care doctors are due to stress related illness?

Do you have lots of muscle tension in your neck, shoulders, back?
Do you never seem to feel really well even when no diagnosis has been made?
Do you often have a headache?
Is your stomach and GI track off balance?
Are you experiencing a health issue that might be caused by or exacerbated by stress?
Do you feel better when your stress level is lower and worse when it's high?
Have you discounted your doctor's statement that stress might be a factor in your illness?
Do you have high blood pressure, heart disease, cancer, diabetes, obesity?
If you answered yes to more than a couple of these questions then it's time to find some options for decreasing the stressors in your life and for effectively lowering your stress response.  Remember, it's not the stressor that's deadly.  It's your response to stress that kills.
If you are ready to make some changes to address the stress in your life and to learn exactly how to lower your stress response then take some action right now.  Don't put it off. Your life may depend on it.   Here's a great option to guide you through the process -> Transforming Stress Teletraining.
Practicing mindfulness can also lower your stress response.  Listen to the relaxing meditations on the  Mindfulness Toolkit CD/mp3 for a quick, easy way to get started.
Debra Burdick, LCSW, also known as 'The Brain Lady', is an international expert on ADHD and Mindfulness. She is an award-winning, #1 best-selling author of: Mindfulness Skills Workbook, Mindfulness Skills for Kids and Teens, ADHD: Non-Medication Treatments and Skills for Children and Teens, Mindfulness for Teens with ADHD, Mindfulness for Kids with ADHD, Mindfulness Skills for Kids Card Deck, and Radical Self-Care When You Are Ill Card Deck. She is an international speaker and retired psychotherapist and neurotherapist, who has been helping all ages thrive for over 30 years.
I would love to hear your personal experiences with this topic.