Posted on September 18, 2017 by Debra Burdick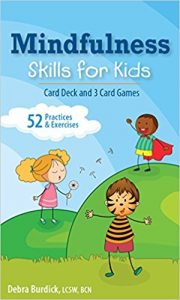 Mindfulness Skills for Kids: Card Deck and 3 Card Games.
The card deck provides 52 fun exercises and practices to help kids calm their mind and body, pay attention, become more self-aware, feel happier and confident, connect with others and have fun. The deck can be used as individual exercises, or as card games (based on popular children's games) that encourage kids to practice a mindfulness skill each time they win a hand. Great for therapists, teachers and parents. Perfect for ages 4 and up.

I would love to hear your personal experiences with this topic.
Categories: ADHD, Anxiety, Mindfulness, Parenting, Products, Self Regulation, Stress
Tags: ADHD, Mindfulness, Mindfulness Card Deck, Mindfulness Card Games, Mindfulness Skills for Children, Mindfulness Skills for Kids