Posted on June 24, 2018 by Debra Burdick
Recently I was asked what my purpose or mission is in life. At first, I said that throughout my career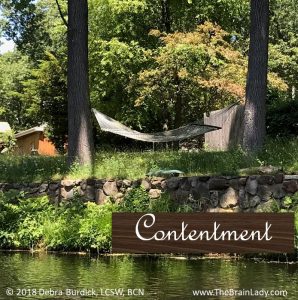 as a psychotherapist and neurotherapist my mission has been to help other people feel better and perform at their peak. But after some more thought I realized that my deeper mission is to experience contentment and joy every day and I hope that my books, audio meditations, and online trainings help others do so, too.
Use the following four steps to help you experience contentment in your life.
1. Define what contentment feels like to you. In order to notice and recognize when you experience contentment you first need to know what contentment feels like to you. One classic definition is "a state of quiet happiness and satisfaction." Contentment can be having a true peace of mind or a sense of well-being and being okay with the way things are. It may involve being able to say that life is good or good enough despite the challenges and imperfections. It can be described as a feeling of being at ease in your mind, body and current situation.
Contentment comes from within rather than from external conditions. It depends on your attitude and how you see and respond to things. Even some people in severe circumstances have reported feeling contentment.
Write down a few sentences about what contentment feels like to you. How do you know that you are experiencing contentment?
2. Remember a time when you felt contentment. Think about the last time you felt contentment. When was it? What did it feel like to you in your mind as well as in your body? What were you thinking about? What was going on in your emotions? What was happening in your life, your body, and your situation? Why did you feel that way? Was how you felt related to what was going on in your life or independent of this? Was it a good feeling?
If you can't remember feeling contentment spend a moment imaging what it would feel like or what you would like it to feel like.
3. Image feeling the way you felt when you felt contentment. Close your eyes. Take a deep breath in through your nose and breathe out slowly through your mouth. Bring your attention inward. Relax your mind. Now imagine everything about how you felt the last time you felt contentment. Remember how your body felt, what you were thinking about. If you can't remember feeling contentment then imagine it.
Recreate the feeling of contentment right now in your mind and body. Stay in the feeling of contentment for at least 20 – 30 seconds. Do this several times every day.
4. If you are not feeling contentment what needs to change so you will? Set your intention to experience contentment regardless of any challenges or negativity you face. Pay attention to how you respond to challenges in your life. Notice whether you usually focus on the positive or the negative. Set your intention to pay attention to positive things. Write down 3 things you are grateful for every day. What action, if any, could you take in your life that would help you feel more contentment? How could you change your thoughts and inner voice to focus on things that bring overall contentment?
If you notice that something in your life interferes with your contentment, consider changing it or, if that's not possible, consider how you might change your attitude about it or your response to it. Sometimes it may be necessary to avoid or discontinue doing something that disrupts contentment or is harmful to you.
For great resources to help you along your journey towards contentment click here.
I would love to hear your personal experiences with this topic.
Categories: Addiction, ADHD, Anxiety, Articles, Bipolar Disorder, Chronic Illness, Depression, Fear, Mindfulness, Pain, Parenting, Self Regulation, Sleep, Stress
Tags: Contentment, Finding Contentment, Mindfulness, Mission in Life, stress