Posted on August 16, 2018 by Debra Burdick
I can't tell you how often I leave the house without something I need to take with me.  Yup.  Even when I set it out where I will see it.  I come home and there it is sitting on the counter. Does this ever happen to you?
Then what do you do?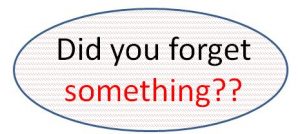 Sometimes I remember that I forgot something when I am a little ways down the road so I do a U-turn and come back and get it.  One time I went to an appointment without the paperwork I had already completed.  Luckily that time my hubby was able to scan it and email it to me.  But what a pain that was.
Here are two really quick mindfulness tips for making sure you have everything you need before you leave.  They really work!
Before you leave the bedroom, the house, the office, the classroom, or even the store do this Quick Scan Process to make sure you have everything you need.
Stop and think about where you are going and what you are about to do. Think about what you need to wear and what you need to bring with you.
Do a Quick Body Scan while you say, "Do I have everything I need?"

Notice what you are holding and wearing and make sure you have everything you need. For example, if you are leaving for school, make sure you have your homework, backpack, lunch, jacket, or anything else you need to bring to school that day. If you are leaving for work check to see that you have your lunch, cell phone, ipad, briefcase, car keys, coat, phone. If you are leaving the grocery store think about what you went there to get.
Women: Look in the mirror to see if you have your earrings (do they match), jewelry or lipstick on. Are you wearing the right shoes? Do you need a coat or sweater?
Men: check your tie, hair, shoes (do they match?), belt, socks.

Do a Quick Room Scan while you say, "Did I forget something?"

Look around the room to see if there is anything you are forgetting to take with you. For example, is your sports bag that you need for practice or the gym still sitting on the floor? Are your keys on the hook? Is your phone on the counter? Is your lunch still in the refrigerator? Going grocery shopping? Is your shopping list on the table?
For more help with being mindful check out Mindfulness Skills Workbook.
I would love to hear your personal experiences with this topic.
Categories: Acquired Brain Injury, ADHD, Articles, Mindfulness, Peak Performance, Self Regulation, Stress
Tags: ADHD, concentration, forget something, Mindfulness, Quick Body Scan, Remeber to take it with you, stress management